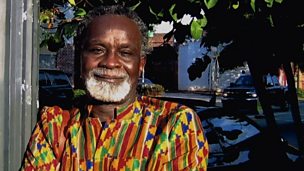 Sierra Leone: Syl Cheney-Coker
Duration: 05:38
THE COLOUR OF STONES

1

When you arrive in this misnamed country,
come to the crooked hills; the fierce, verdant eyes
of Sierra Leone, its mythic blood, crazy history!
Named in limestone - Wilberforce, Regent,
Leicester, Gloucester and Charlotte- the old,
smoky villages of deft colonials and benefactors
are dying. Quarried with ruin now, they were once
the crown jewels of English Christian love.

11

Under the tamarind, the gowned- women in kabaslot
are shy, but still invite young men to their modest homes.
They dim the paraffin lamps, offer sweet fibers of ginger,
the sorrel fragrance of golden days, and move their lips,
as though under the magic of the Gambian herb, with which
the Aku women once tempted the mouths of Christian lovers.

111

The secrets of golden age, entombed in the old grannies'
bones, have turned gray; but they shimmer and refuse
the eternal death stamp. Fiery lianas, they twine round
the bodies of the young, philistine ploughmen, who are
reckless with adzes. Ah, those beloved grannies, eternal
and watching, as new arrogance drapes their smoking hills,
which will never die- always alive- this mountain country!
Available since: Tue 29 Apr 2014
This clip is from
Poetry from around the Commonwealth brought to Glasgow for the Games.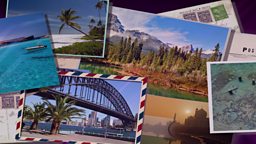 Featured in...
Poems from the continent of Africa.

Poetry Postcards, Commonwealth Cuisine, Baton Updates and more