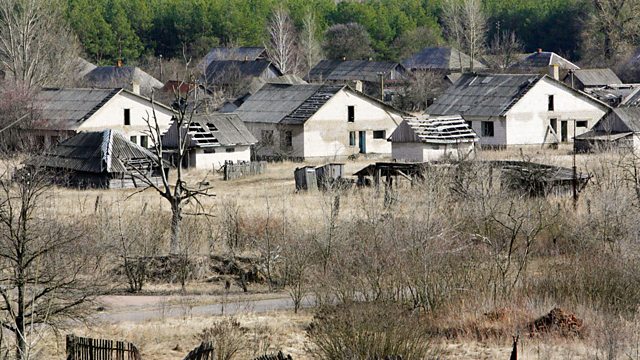 Chernobyl Birds, Exo Skeleton, Frozen Faecal Transplants
Chernobyl Birds
Some birds in the Chernobyl exclusion zone are adapting very well to the radiation levels. Birds in the exclusion zone around Chernobyl are adapting to – and may even be benefiting from – long-term exposure to radiation. Ecologists have found for the first time that wild animals adapt to ionising radiation. It appears that they protect themselves by diverting antioxidants from producing pigments in their feathers to fight the damaging effects of oxygen free radicals (these damage the DNA and cellular mechanisms). It appears that birds who can't do this have not survived in the radiation exclusion zone. Professor Tim Mousseau has been studying the Chernobyl exclusion zone since 2000 and the Fukushima one since 2011. He says this is the first positive response in wildlife populations that he's seen in this time. It is 28 years now since the disaster (anniversary 26 April 1986).
Rex: Exoskeleton at Naidex
Naidex a big tech fair with the accent on technological tools to help people with disabilities has opened in Birmingham in the middle of England. One the most eagerly awaited exhibits are that of Rex, a company that specialises in building exoskeletons. Click hears from Rex's, Richard little and from Sophie Morgan who has used the technology to enable her to walk.
Frozen Faecal Transplants
Around 3% of adults have the clostridium difficile infection in their gut but for most people their healthy bacteria keep it in check. But some patients, for example those taking antibiotics, no longer have these healthy bacteria and as a consequence have serious gut infections This can cause constant diarrhoea, severe stomach pains, nausea and weight loss. For people in this situation, faecal transplants – taking one person's faeces and transferring them to another person – have been a very successful way of replacing the good bacteria and curing the disease. Until now doctors have relied on fresh samples, but new research from the US has shown that frozen samples work just as well, which could allow stool banks to be set up.
Epigenetics
Research from the Gambia showing that a mother's diet around the time of conception can permanently influence her baby's DNA. This is an example of epigenetics.
Biofuels from Algae
Gaia Vince is meeting the scientists who are trying to conjure up new liquid fuels as the world begins to phase out crude oil. Focusing on algae and the bacterium E.coli.
Birds in Borneo
Zoologist Dr Tim Cockerill recently found himself filming animals deep in the jungles of Borneo. Before he left, we gave him an audio recorder to see what he could discover about the animal communities there, just by listening to them. It seems you can set your watch by some of their calls.
(Photo caption: A view of the deserted Belarussian village of Tulgovichi, 370 km southeast of Minsk © AFP/Getty Images)
Last on