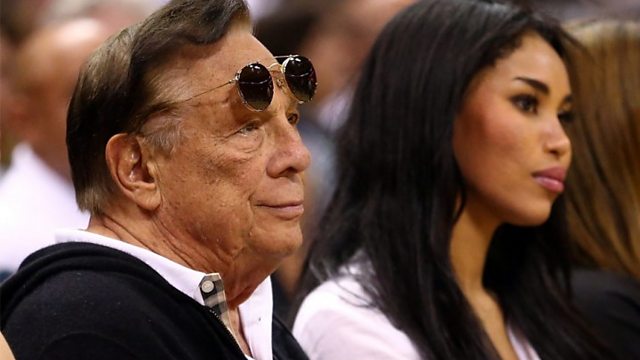 NBA – Sterling Crisis
After a week which saw allegations that the owner of the LA Clippers Donald Sterling was recorded espousing vehemently racist views and ended in him being banned for life from the NBA and moves underway to force him to sell the team, we speak to Dr. Harry Edwards author of "The Revolt of the Black Athlete" and architect of the Olympic Project for Human Rights that inspired Tommie Smith and John Carlos to give the Black Power Salute at the Mexico Olympics. Plus Clipper Darrell the Clipper's 'super fan' on how he and other black fans feel about supporting the club.
Zambia Remembers
21 years on from the loss of 18 members of the Zambia national squad relatives of the dead are still looking for answers as to why the plane that carried the team back from a World Cup qualifier in Senegal crashed.
Sold Out
Later this month the BBC World Service will broadcast live from a women's club football match for the first time as Arsenal Ladies take on Bristol Ladies... It is further proof of the popularity the sport is enjoying, but it's not unprecedented... We look back at a time when the women's game and one team in particular, threatened to put the men's game in the shade.
Rio Ready?
We investigate what prompted the IOC's vice president, John Coates to declare Rio's preparations as "the worst he has ever seen". We also ask what also makes him think "the Rio organising committee can deliver an excellent Games"
From Our Own Sporting Correspondent
This season's IPL has finally had its first game in India. From Our Own Sporting Correspondent looks back at how the last couple of weeks have affected temporary hosts, the UAE.
Sporting Witnes hears from one of the Cameroon team about a defining game for African football, the opening game of the 1990 World Cup. Final score Argentina 0-1 Cameroon.
Last on