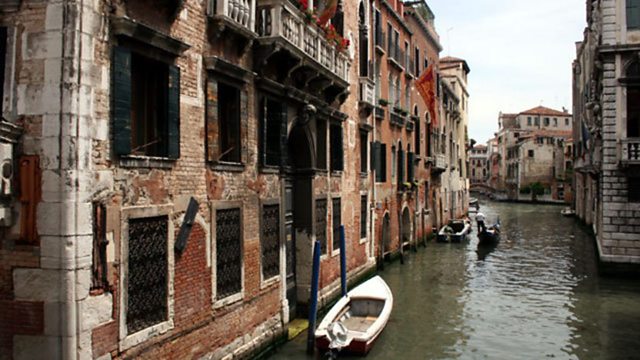 Tomaso Giovanni Albinoni
Donald Macleod examines the few known facts of Albinoni's life, most of which was spent in his native Venice. Despite the lack of biographical information, the composer is an interesting and rather anomalous figure. He became disengaged from the family playing-card business fairly early on - presumably so that he could concentrate on his music - but he continued to earn from it. As a result, his status as a composer was said to be that of a dilettante; he wrote music because he wanted to, not because he had to. Perhaps his comfortable personal circumstances explain the relaxed mood of much of his output.
Donald Macleod turns to the composer's elusive operatic output - elusive because of more than 50 operas composed by him, only three have survived intact. Donald also considers the practicalities of staging opera in the early 18th century and speculates about Albinoni's relationship with his younger contemporary Vivaldi.
He considers Albinoni's important role in the development of the concerto form; his Opus 2 collection was the first by any Italian composer to make a serious impact north of the Alps. Bach himself took the trouble to copy the second concerto by hand.
Next Donald Macleod turns to the composer's small but elegant catalogue of chamber music. He also considers the state of music publishing in the early 1700s, when piracy was rife and new, north European technology was changing the face of the music world.
Donald Macleod concludes his exploration of the life and work of Venetian composer Tomas Albinoni by considering the many patrons he had to ingratiate during his long composing career, from the Marquis of Castelar to Charles VI, Holy Roman Emperor.