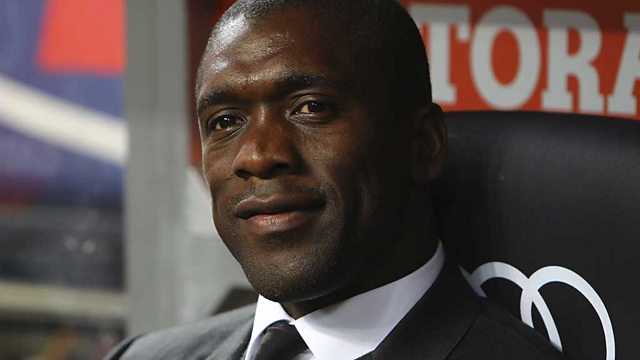 Recruiting Black Managers
After the sacking of Norwich manager Chris Hughton there is not one black manager in the English professional game, and the situation across Europe's four main leagues is not much better. AC Milan coach Clarence Seedorf, pictured here, is one of the very few high profile black managers in Europe. So why despite making up a quarter of the players are we not seeing more black managers? We are at Wembley to discuss this with Lord Ouseley chairman of the Kick It Out campaign, Clarke Carlisle former chair of the professional players association and Michael Johnson former premier league player and fully qualified coach, who cannot get a managerial appointment.
Boston Marathon One Year On
We hear the story of Matt Reis, a coach at MLS team LA Galaxy, on the crucial role he played in saving his father-in-law's life when he was badly injured in last year's explosion at the race.
Role Model Army
As the new women's football season kicks off in the US and the UK we look at a new army of role models giving women and girls an opportunity to be inspired by women who are real achievers rather than simply famous for being famous.
Pole position
We are with the competitors at the North Pole marathon… where unless you win, finishing the race is cold comfort.
Sporting Witness… goes back to one of the most famous incidents in marathon racing history - the day a woman ran the event for the first time. American athlete Kathrine Switzer.
Picture: AC Milan coach Clarence Seedorf, Credit: Marco Luzzani/Getty Images
Last on
Sat 19 Apr 2014
09:06

GMT