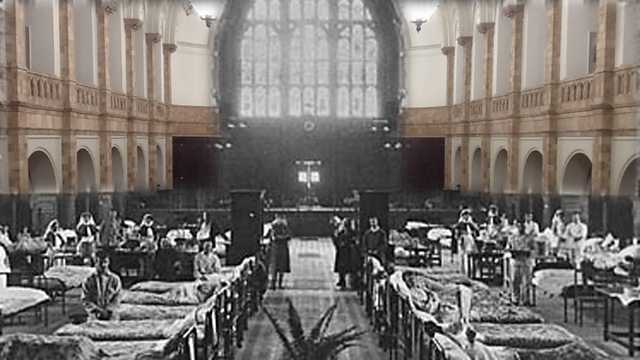 University of Birmingham, West Midlands: War Hospital
The Great Hall at the University of Birmingham sits at the heart of the campus in Selly Oak.
Set in one of the University's original Victorian red-brick buildings, the Great Hall dominates the central campus along with the Chamberlain clock tower.
Now acting as the University's ceremonial hall used for significant events in the academic calendar including exams and graduation, it is hard to imagine that during World War One it was a busy hospital ward.
There were 15 hospitals in Birmingham during the war but the Southern General Hospital, as it became known, was the largest and where war medicine was concentrated.
Over the course of the war; 130,000 patients were admitted here. It had its own monthly magazine called the Southern Cross.
Patients at the hospital would sketch cartoons or write poems and letters.
Some of the cartoons poked fun at the staff and implied sadistic treatment of patients by surgeons.
But not all the staff were disliked. Matron Catherine Lloyd was famous for her kind bedside manner and was presented with a hand embroidered quilt by patients at the hospital.
Location: The Great Hall, University of Birmingham, Birmingham B15 2TT
Image shows the Great Hall then and now. Historic photograph as a hospital in 1918, courtesy of University of Birmingham Cadbury Research Library
Presented by BBC WM's Kathryn Stanczysyzn
Featured in...
Places in the West Midlands that tell a story of World War One

Medicine

—

World War One At Home

Hospitals, medical pioneers and the nursing contribution