I Was Buried by a Mudslide
Robin Youngblood was engulfed by the Oso mudslide in Washington State nearly four weeks ago. She remembers the moment it struck, and describes the effect it has had on her community and her life.
British science writer David Adam on his struggle with OCD, obsessive compulsive disorder. His book is called The Man Who Couldn't Stop.
Dayne Buddo is a Jamaican marine biologist who has declared war on the destructive lionfish which have invaded the Caribbean.
British actor Chiwetel Ejiofor talks about his personal connection to events portrayed in his latest film, Half of a Yellow Sun, set during the Biafran War.
Image: The debris from a deadly mudslide in Oso. Credit: Getty Images
Last on
Fri 18 Apr 2014
02:06

GMT
Dayne Buddo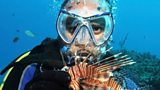 For years now the Caribbean Sea has been under attack from an invader species: the lionfish. But Jamaican marine ecologist Dayne Buddo has been on a battle to stop it from swallowing dozens of native fish and crustaceans.<?xml:namespace prefix = o ns = "urn:schemas-microsoft-com:office:office" />