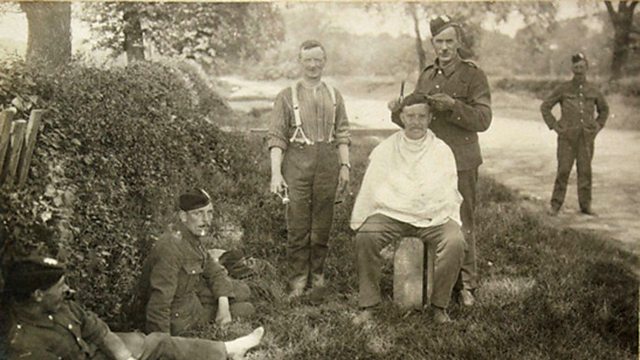 Bury St Edmunds, Suffolk: Capturing the War
Walton Burrell had a unique view of the war at home. Born deaf, he was exempt from frontline service in World War One. Instead he spent the war years providing a different kind of service: photographing military and everyday life in West Suffolk.
Burrell's occupation was recorded as 'photographer' in the 1911 census, but he doesn't appear as an official war photographer in any documentation. This doesn't seem to have stopped him from gaining access to some highly secure areas; he photographed the secret area at Elveden in which, for a few months in 1916, brand new tanks were trialled.
The albums of more than 2,000 photographs are now owned by the Friends of Suffolk Record Office who help to preserve Suffolk's historical records and are kept at the Bury St Edmunds office. They show pictures of injured servicemen recovering at Red Cross Hospitals including Ampton Hall and Fornham St Martin.
Two letters which are also in the albums show he was a regular and welcome visitor, whose presence helped to raise the spirits of the patients.
As well as posed shots of soldiers training in the area, there are a number of candid shots of soldiers relaxing. There are pictures of soldiers 'cutting corns' from the feet of their comrades, having their hair cut by each other at the roadside and swimming in local rivers.
Walton Burrell also documented the damage caused by the Zeppelin raid on Bury St Edmunds in April 1915.
The albums don't just contain military inspired photographs; scattered among them are photos of flowers growing on the family farm in Fornham All Saints and pictures from the wedding of his sister and the wedding anniversary of his parents.
Location: Hall Farm, Fornham St Martin IP31 1SL
Image shows soldiers getting their hair cut on Ingham Road
Photograph courtesy of Suffolk Record Office
Interview with Sheila Reed
Featured in...
The impact on arts, literature, poetry and journalism

Places in Suffolk that tell a story of World War One