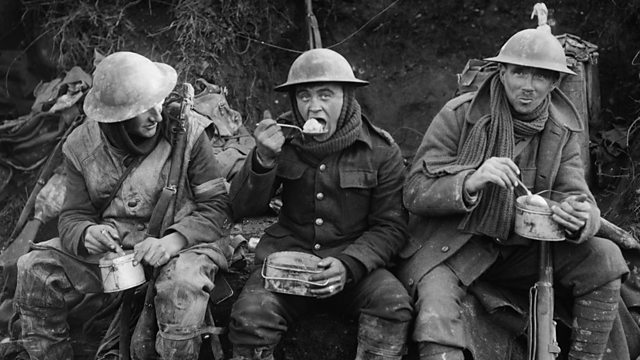 Lowestoft, Suffolk: The Brothers Who Fed an Army
"Warmed in the tin Maconochie was edible, cold it was a man-killer."
More than three million tons of food was sent out to soldiers in France and Germany during WW1. It included cans of bully beef (corned beef), biscuits and tea, but a large proportion was tins of 'meat and veg'.
Although soldiers at the fronts frequently complained about their diet, the most popular and by many accounts, well-respected brand was Maconochie, which became a by-word for all meat and vegetable rations in WW1.
The Maconochie brothers had set up Factory No 1 in Lowestoft in 1873. Initially the site was used for bottling and preserving fish, but they had moved into canning meat and vegetables in time for them to be a major supplier to the British Army during the Boer war. By the outbreak of World War One the brothers had opened food processing plants on the Isle of Dogs in London, in Hull, in Yorkshire and in Scotland.
The Maconochie stew or ration contained sliced turnips and carrots, potatoes, onions and haricot beans along with bits of beef, mixed together in watery gravy. Its advert boasted of it being a 'sustaining and economical meal, containing the finest beef'.
The company boasted the rations could be eaten hot or cold, but in many situations, particularly on the frontline heating tins was impossible and soldiers had to suffer eating them cold, with one soldier describing the unheated Maconochie as 'a man-killer'.
As well as providing tinned meat and vegetables to the army, the Maconochie brothers also had a contract for jam. They continued supplying M and V to the military through WW2. The brand was also responsible for Pan Yan Pickle which was produced until 2002, the last known recipe for which was destroyed in a factory fire in 2004.
Here, Sophie Jackson from the Lowestoft Living Archive and Dr Rachel Duffett from the University of Essex talk about Maconochie rations.
Location: The site of Factory No 1, Lowestoft NR33 0TQ
Image shows soldiers eating Maconochie food
Photograph courtesy of Imperial War Museums
Presented by Sophie Jackson from Lowestoft Living Archive and Dr Rachel from the University of Essex
Featured in...
Places in Suffolk that tell a story of World War One

Rationing, supplying the frontline, drinking ...