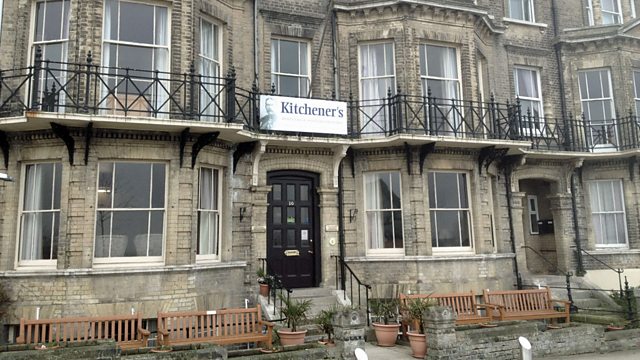 Lowestoft, Suffolk: The Lord Kitchener Memorial Holiday Centre
The face of Lord Kitchener, the Minister of War, was a familiar one during WW1. In the words of one young recruit "the accusing finger of Kitchener stabbed me at every bill posting".
He was one of the few military leaders who predicted the war would be a lengthy one, and embarked on the recruitment campaign for which he is most remembered now.
Lord Kitchener was a regular visitor to Suffolk; he was a cousin of the Chevallier family which founded and still runs the Aspall cyder company, and in 1898 he was created Baron Kitchener of Khartoum and of Aspall. He was also the High Steward of Ipswich (a post held earlier by Lord Nelson).
While there was general public adoration for Lord Kitchener, he became increasingly unpopular in military and political circles. He was instrumental in the disastrous Battle of Gallipoli and was to blame in part at least for the 'shell crisis' of 1915.
On 5 June 1916, Kitchener had been sent on a diplomatic mission to Russia, when the ship he was on, HMS Hampshire, was sunk by a German mine. His body was never found. There was a mass outpouring of grief amongst the British public and numerous fundraising campaigns were launched to create permanent memorials.
In Lowestoft, a vicar had already begun offering accommodation to soldiers on leave from the war. With £25,000 raised in Sheffield and East Anglia he bought the house next door and, in 1919, opened the Lord Kitchener Memorial Holiday Centre to provide subsidised breaks.
Initially only men were allowed, sleeping in dormitory accommodation with their wives staying in bed and breakfasts along the seafront, but the rules have since been relaxed, and the comfort improved!
Location: Lord Kitchener Memorial Holiday Centre, Lowestoft NR33 0BY
Image shows the Lord Kitchener Memorial Holiday Centre today
Featured in...
Places in Suffolk that tell a story of World War One

Memory

—

World War One At Home

Memorials and the commemoration of wartime lives