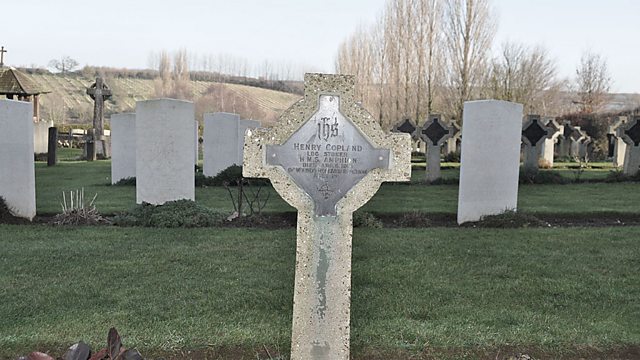 Shotley, Suffolk: First Major Naval Loss of WW1
On the night of 5 August 1914, HMS Amphion was part of a flotilla of ships which set out from Harwich. They were told the German minelayer Königin Luise had been seen "throwing things overboard". The flotilla chased and the Königin Luise was sunk.
The Amphion picked up the 46 German survivors and continued on her search mission. At 06:30 the following morning, when on her way back to Harwich, the Amphion struck a mine laid by Königin Luise and began to sink, partly on fire.
The official press bureau report says: "all efforts were therefore directed to placing the wounded in a place of safety in case of explosion and towards getting her a tow by the stern. By the time destroyers closed in it was clearly time to abandon ship. The men fell in with composure and 20 minutes after the mine struck, the men, officers and captain left their ship."
Minutes later she exploded and within 15 minutes had sunk completely. It resulted in 149 Commonwealth sailors being killed; two more died of their injuries in Shotley Hospital and are buried in Shotley Naval Churchyard. Nineteen of the German sailors who had been rescued from the Königin Luise also died.
The following day Winston Churchill, the First Lord of the Admiralty, in the House of Commons said the Admiralty was saddened, but "not at all alarmed or disconcerted" by the incident. He used his speech to announce the creation of a Press Bureau to provide "a steady stream of trustworthy information… which, without endangering military or naval interests, will serve to keep the country properly and truthfully informed from day to day of what can be told, and what is fair and reasonable; and thus, by providing as much truth as possible, exclude the growth of irresponsible rumours."
Location: St Mary Naval Churchyard, Shotley IP9 1ES
Image shows the churchyard today