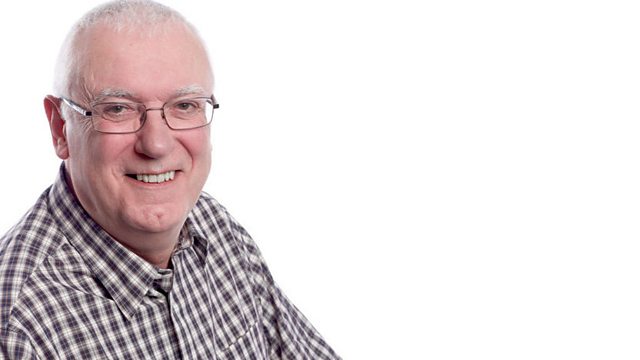 The Cartridge Years: 1980, 1997 and 2001.
This week Richard turns back the clock with the hits and local headlines from April 1980, 1997 and 2001.
And he plays three tracks from The Carpenters' 1975 album Horizon.
Richard highlights some of the lighter stories of the week that you may have missed, reviews some of the recent surveys and looks ahead to the news for Monday.
It's the perfect way to spend a Sunday afternoon.
There is a choice of listening this Sunday afternoon. Richard is on FM, digital radio and online. And there is ball by ball cricket commentary as Hampshire face Surrey in the county championship on AM and online.
Last on
April 1980
The British Rail ferry Cuthred ran aground in Portsmouth harbour.
Destroyer HMS Kent came into Portsmouth for the last time as a serving warship.  She was later used as a fleet training ship.
Sailors from the south were dealing with the disappointment of finding out their squad would not be going to the summer Olympics in Moscow.
Langston Harbour Board turned down a proposal by the nature conservancy council to turn part of the harbour into a nature reserve.
Isle of Wight hoteliers were angry at proposals to turn the island's ports into havens for stricken ships.
A diesel locomotive was named 'Eastleigh' in honour of the railway town's heritage.
The national student drama festival was under way in Southampton - the festival was celebrating it's 25th anniversary.
Southampton's Bargate Museum held an exhibition to mark 100 years of public transport.
The Alexander Kielland North Sea accommodation platform for oil workers collapsed into the sea, killing 123 oil workers. A massive wave hit one of the legs of the platform, causing it to break and fall into the water. 
The Iranian Embassy Siege began. 
April 1997
A new Tropical House was being built at Marwell. A TV Documentary looked at the requirement to build a bridge for the public to cross over the crocodile pool.
HMP Wear was in Portland being prepared to accept it's first inmates.
Natural Law Party were demonstrating Yogic Flying in Bournemouth.
300 abseilers jumped off Ark Royal which was in portsmouth for a re fit
Portsmouth FC announced a redevelopment of Fratton Park
P&O announced it was to build a sister ship to Oriana.  Aurora was built in 2000 at Meyer Werft shipyard in Germany
Britain was getting ready to go to the polls after a general election was called.
British Waterways introduced new technology to ensure that the country's 200 year old canal network will survive into the next century.
Saddam Hussein celebrated his 60th birthday.
April 2001
Homes in Niton were being checked & roads were closed following a landslide.
Doubts were raised as to the exact location that William Rufus died.  The Beaulieu Estate claim he died there, not at Minstead where his memorial stone stands.
Police in Japan formally charged a businessman over the murder of the British bar hostess, Lucie Blackman.
Foot & Mouth cases were being reported around the UK.
Sophie-gate was rocking the Royals - A news of the world reporter posed as a sheik and interviewed The countess of Wessex.
M&S reported terrible first quarter sales figures.
There were protests at M&S flagship store in Paris in response to the announcement they were to close their European shops.
The crew of an american spy plane were being held on Hainan Island in China.
America's latest mission to Mars, the unmanned Odyssey probe, blasted off from Cape Canaveral.