Last on
Creamy Bacon and Leek Linguine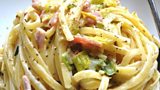 Ready in just 15 minutes and makes a brilliant, quick mid-week main. Only requires four basic ingredients to make and tastes delicious. If you don't like leeks, swap them for peas or whatever they prefer. 
Serves:  4 adults
Time:     20 minutes start to finish
Cost:      £1.03 per serving
Calories:  652 per serving
Ingredients
6 rashes of smoked or unsmoked back bacon
2 medium leeks
400g linguine (or pasta of your choice)
250g tub low-fat cream cheese with garlic & herbs
Black pepper to taste
Splash of olive oil for frying
Method
Cut the bacon into thin strips (around 3cm x 1cm) removing the white fat.
Top and tail the leeks and slice each in half lengthways. Slice finely (about half a cm) and give the leeks a really good wash in a colander.
Put the pasta on to cook according to the instructions on the packet. This should take around 10 minutes.
In a large saucepan, fry the bacon for a minute or so stirring frequently on high heat until crisp and cooked. Add a splash of oil, heat through and add the leeks. Fry the leeks for around 3 minutes until soft.
Drain the cooked pasta reserving a little of the starchy cooking water. Add the cooked pasta and the cream cheese to the pan with the bacon and leeks. Stir well over a low heat until the pasta is well coated with the cheese and the other ingredients. Add a little of the cooking water to loosen the sauce if it's a bit sticky and thick. Season to taste with black pepper and serve immediately.