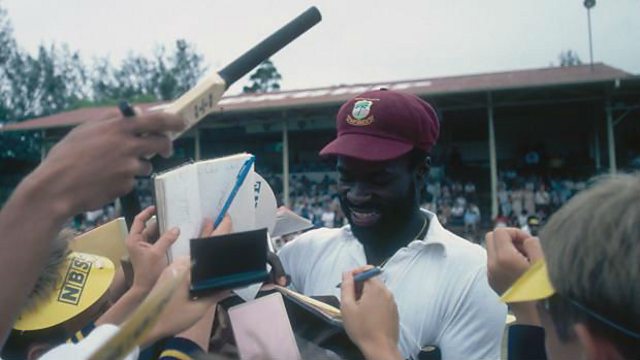 The Greatest… Never To Play For West Indies
Former Wisden Cricketer of the Year Franklyn Stephenson on why his never having played internationally is a stain on West Indies cricket history, his successful youth academy and how close he came to a million dollar hole in one.
Wisden Women
Plus a profile of the evolution of women's cricket from a ban in the score box to Charlotte Edwards being awarded the 2014 Wisden Cricketer of the Year.
Peace of the Action
Why has the United Nations spent money creating this week's inaugural 'International Day of Sport for Development'? We hear from events hosted in Rwanda and Indonesia and from the UN organiser Melodie Arts.
A Tale of Two Runners
We speak to two very different African competitors at Sunday's London Marathon. Kenyan First Lady Margaret Kenyatta who is looking to raise over $5,000,000 and Sierra Leone's national record holder, and amateur Idrissa Kargbo, who hopes he can attract sufficient financial support to continue his fledgling career.
Disabled Coach
The BBC's Mani Djazmi speaks to wheelchair user Sohail Rehman who, with support from Sir Alex Ferguson, is using football coaching as his "salvation".
Keeping Sport Clean
Could decline in sporting excellence be down to poor performance in the bathroom? We investigate the latest research into dental hygiene and how it affects high class sport.
Sporting Witness
In April 1958 a group of top Algerian footballers secretly abandoned the clubs they were playing for in France to join an Algerian national team. Though unrecognised by FIFA, the team's formation was considered a major coup for the Algerian independence movement. Mike Lanchin has been talking to Rashid Mekhloufi, one of the players.
Last on
Sat 12 Apr 2014
09:06

GMT