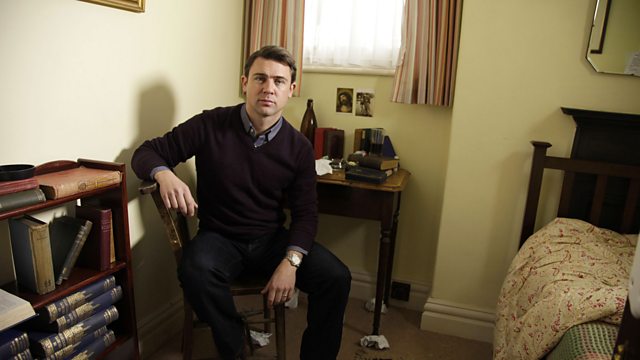 Dylan Thomas: A Poet's Guide
The poet Dylan Thomas is famous the world over. But often it's for tales of his tempestuous life rather than for what he wrote. Now Welsh poet Owen Sheers gets back to what started all the fuss: the words on the page. Homing in on Thomas' major poems, Sheers leads viewers through the story of what inspired them, how they were written, and what exactly they mean. He visits the places where they were forged: from suburban Swansea to war-torn London, from the rural splendour of west Wales to the heady whirl of New York City. With a poet's ear for language, he analyses worksheets, unpacks lines and asks just how good these poems really are. Fellow poets Paul Muldoon, Andrew Motion, Simon Armitage and Clare Pollard share their insights and enthusiasm.
A century on from Thomas's birth, poems like 'Fern Hill' and 'Do not go gentle into that good night' remain among the most popular in the language. Here, Owen Sheers makes the case for Dylan Thomas being one of the major poets of the 20th Century: a visionary and a craftsman.
Owen Sheers examines Dylan's unique literary style in one of his best-known works.
Owen Sheers on Dylan the poet
Credits
| Role | Contributor |
| --- | --- |
| Presenter | Owen Sheers |
| Director | Ian Michael Jones |
| Producer | Ian Michael Jones |