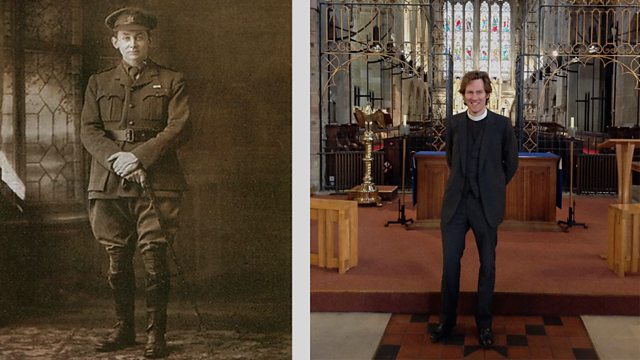 St Editha's Church. West Midlands: Front Line Chaplain
Maurice Berkeley Peel was a vicar at the outbreak of war who volunteered his services as a chaplain and went to France in October 1914.
When he joined up he was a vicar in Leafy Beckenham. He was the grandson of former prime minister and founder of the modern police force; Sir Robert Peel.
Peel felt it was his duty to be as close to his men as possible to help those fighting in any way he could. He offered both advice and moral support but also tended to those wounded on the battlefield. Against advice Peel went 'over the top' with his men to seek out those wounded. He carried nothing more than a walking stick and bible.
At the battle of Festubert in France he fell in action wounded but refused treatment until all other cases had been dealt with first.
Military chaplains were often forbidden from going 'over the top' with their men or to put themselves in the line of fire. Peel's actions were seen as controversial as chaplains were there to provide pastoral care and to bury the dead.
Indeed Siegfried Sassoon in his poem 'Christ the Soldier' (August 1916) criticises the lack of army chaplains at the front but cites Peel as the exception. In fact, many padres and chaplains were accused of not knowing what it was like on the front line.
Wounded in 1915 at Festubert in France, Maurice Peel returned to England to become vicar of St Editha's Church in Tamworth. That year he was awarded the military cross for acts of 'gallantry in the field'.
In 1917 he resolved to return to the front line to serve as an army chaplain. He was killed at the Battle of Bullecourt on 14 May 1917. He is buried at the Queant Road Cemetery in Buissy
Maurice Berkeley Peel's great grandson, Reverend David Longe is a vicar in London. He visited St Editha's Church for the first time to find out more about his great grandfather and how much he was loved by the people of Tamworth.
Location: St Editha's Church, Tamworth, West Midlands B77 3DG
Image shows Reverend Maurice Berkeley Peel (left) and his great grandson, Reverend David Longe (right), who presents the story
Featured in...
Quakers, chaplains & religious belief

Places in the West Midlands that tell a story of World War One

Memory

—

World War One At Home

Memorials and the commemoration of wartime lives