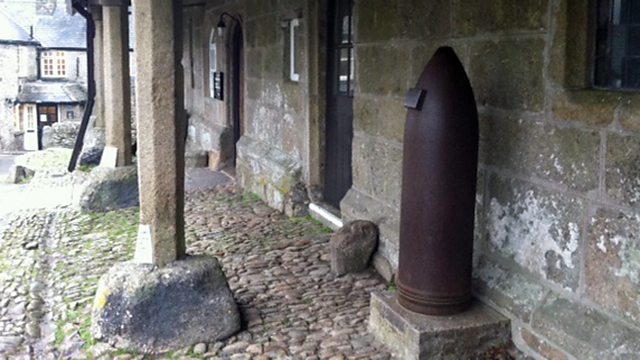 Widecombe, Devon: Moss from the Moor that Treated Wounds of War
In the Dartmoor village of Widecombe there is still a metal memory of war. A 15 inch shell commemorates the contribution of the village's children to World War One. They were the collectors of the moss from the moor, which treated the wounds of the war.
After 1915 sphagnum moss was collected from the mires and bogs of Dartmoor. Cleaned, dried and packed in processing centres such as Princetown (funded by the Prince of Wales), the moss was then distributed to local centres where dressings were made into muslin bags and sent to military hospitals.
Local newspaper reports suggest dressings were made across the county in towns such as Totnes, Honiton, Dartmouth and in Exeter.
With cotton in increasingly short supply through the war, moss dressings offered a cheap and available alternative.
Sphagnum moss has both absorbent and antiseptic properties. It was approved as a dressing in 1916 by the War Office.
Location: Widescombe, Dartmoor, Devon TQ13 7TA
Image shows a shell preserved in Widescombe, presented to the villagers by the National War Savings Committee, in thanks. The plaque reads 'This 15" naval shell was presented by the National War Savings Committee in 1920 to the people of Widecombe in recognition of their efforts during the First World War gathering Sphagnum Moss for use in the treatment of wounds'.
Featured in...
A selection of stories about life on the WW1 Home Front

Innovations

—

World War One At Home

Where war was the mother of invention

Places in Devon that tell a story of World War One