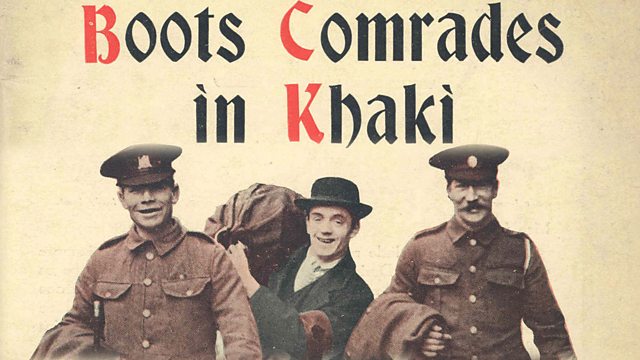 Boots, Nottingham: Comrades in Khaki
Boots, the Nottingham based drugs company, produced its first ever staff magazine during World War One. Jesse Boot the founder of the company wanted to create an 'open line of communication' between staff and home and their colleagues serving at the front.
There are a few surviving copies of these very rare magazines and they are kept at the Boots archives in Nottingham.
Comrades in Khaki ran from April 1915 to April 1916. The magazine was 74-pages long and detailed changes to the business, marriages, deaths and letters 'from the lads'. Money raised from the sale of Comrades in Khaki went to a sick and wounded fund for Boots staff
One of the letters from The Front said 'anything with the name Boots on it is like a message from home to me. It bucks one up tremendously.'
Comrades in Khaki ran monthly until April 1916 when paper shortages and manpower dictated that the magazine came to an end. From 1920, the Boots staff magazine, under a different name, returned and continues for Boots staff today.
Location: Boots Head Office, 1 Thane Road West, Nottingham NG2 3AA
Image shows the front cover (left) and first edition (right) of Comrades in Khaki, courtesy of Boots archivist, Sophie Clapp
Presented by Sarah Julian
Featured in...
A selection of stories about life on the WW1 Home Front

Places around Nottingham that tell a story of World War One

The impact on arts, literature, poetry and journalism