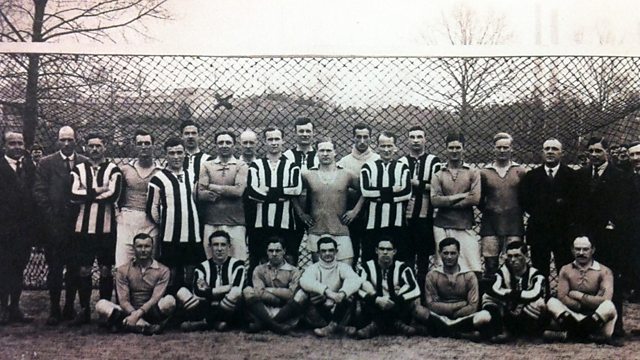 Pride Park, Derby: Steve Bloomer Interned in German Detention Camp
In every home game Derby County come out to an anthem all about Steve Bloomer. There's also a bust of him by the home team dugout.
He was born in 1874 and grew up in Derby. During his two spells at Derby County he scored just under 300 goals. He also scored 28 times in 23 appearances for England.
In 1914, Bloomer retired taking up a job as manager of Brittania Berlin in Germany. Within three weeks of arriving, World War One broke out and he found himself interned at Ruhleben, a civilian detention camp. The camp contained up to 5,500 prisoners.
Gradually a mini-society evolved and football became a popular activity. The Ruhleben Football Association was formed and cup and league competitions took place.
When he finally left Ruhleben in March 1918, a farewell football match was staged in Steve Bloomers honour.
Location: Pride Park, Derby DE24 8XL
Photograph taken at Steve Bloomer's farewell match in Ruhleben, courtesy of Andy Ellia
Presented by Peter Seddon