How Do I Tell My Child?
The women who had children after being raped during the Rwandan genocide tell us about the legacy of that violence.
Khaled Hourani
Taking a Picasso to the Palestinian territories - we meet the artist who overcame many obstacles to bring art to his people.
Di Gilpin
The knitwear designer who started knitting for friends and now employs nearly 100 hand-knitters across Scotland.
Carolina Cabezas
The reality of bringing up a baby in one of the coldest places on earth - Antarctica
Alex Pelling and Lisa Gant
The British couple who've had 65 weddings in 50 countries, but who are still not legally married.
Photo credit: Phil Moore/AFP/Getty Image
Last on
Fri 11 Apr 2014
02:06

GMT
Bringing up baby in Antarctica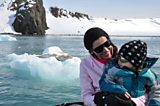 Carolina Cabezas lives with her husband and two-year-old son Fernandito in a military base in King George Island, right off the coast of Antarctica.