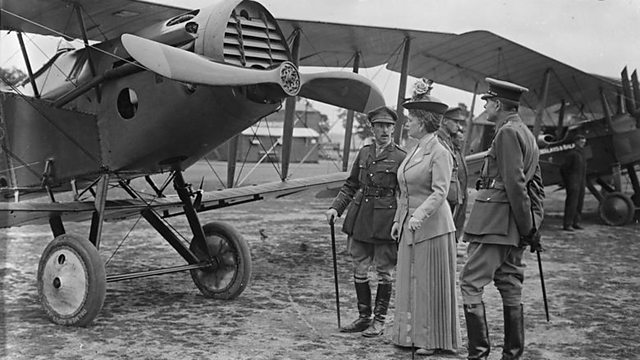 Taunton, Somerset: Hugh Trenchard, the 'Father' of the RAF
The image of the archetypal Royal Air Force officer is something of a cliché; unmistakably British, square-jawed with a military bearing, slicked down hair, a neat moustache and a faint air of rakishness. The man they called the 'Father' of the RAF conformed to that stereotype exactly.
The long and distinguished life of Hugh Montague Trenchard began on 3 February 1873 at Windsor Lodge in the Haines Hill area of Taunton. Built just eight years earlier, it was one of the area's finest town houses with a kitchen garden, a coach house and stables. Little has changed over the decades in this fashionable part of Somerset's town. His father was an army officer and his maternal grandfather was a Royal Navy captain. His upbringing was a very long way from humble but it wasn't without drama and heartbreak; all things which influenced Trenchard in his formative years. While still a small boy the family moved to Courtlands a "farm-cum-manor" three miles from the centre of Taunton.
Life in the countryside seemed to suit him although he failed to shine academically. He grew in to a young man who was self-assured. But two traumatic events in his teenage years made an indelible mark on the young Trenchard. When he was 13-years-old his sister died of diphtheria at Courtlands Farm. Then three years later his father, who had left his commission to become a solicitor at Taunton, was declared bankrupt. The grief of losing his sibling and the public humiliation over his father's financial affairs had a massive effect on him and his personality. The combination of sorrow and embarrassment would install a degree of steely determination in him and made him all the more ambitious. He resolved himself to achieve great things in life while a general distain for authority meant he wasn't afraid to stand his ground. He regarded himself as a man of destiny.
Coming from a military family, we can only imagine how he felt at failing the entrance exams for the Royal Navy or his thwarted attempts to pass the entry tests for the army. But eventually he was able to join the Royal Scots Fusiliers and served in India and South Africa. When aviation started to make its mark he spotted its significance and saw an opportunity. This was a man with Victorian attitudes but also an eye for modernity.
His 40th birthday was fast approaching and he was told that if he wanted a flying career he had to learn to be a pilot in 10 days or he would be disqualified for being too old. So with typical bloody-mindedness he knuckled down and got his 'wings'. He quickly rose through the ranks and when war broke out his task was to command the army's fledging Royal Flying Corps.
He recognised the need for air supremacy, coordination with ground forces and high morale. His reward was to be promoted to Chief of Air Staff of the newly created Royal Air Force. In this role through the 1920s he concentrated on the RAF's organisation, management, development, training and technical instruction in order to create a service which worked both in theory and in practice.
Mick Oakey, Managing Editor of the quarterly magazine, The Aviation Historian, says Trenchard wasn't as complex a character as at first appears: "If you summed him up in one word it would be 'uncompromising'."
The young Somerset teenager with a yearning to make his mark in the world ultimately achieved his dream. He became Marshall of the Royal Air Force 1st Viscount Trenchard, Baron of Wolfeton in the county of Dorset G.C.B., O.M., G.C.V.O., D.S.O.
He died in February 1956, a week after his 83rd birthday. But even in death he was making an impression. The pallbearers at his funeral included four of the RAF's World War Two leaders; Arthur 'Bomber' Harris, Charles Portal, Arthur Tedder and William Sholto Douglas. His ashes are buried in the RAF chapel at Westminster Abbey and every February, on the anniversary of his death, a wreath is laid.
Much has been said and written about Trenchard but the pithiest description of him came from the former Prime Minister Harold Macmillan who called him: "One of the outstanding men of our time".
Location: Windsor Lodge, Haines Hill, Taunton TA1 4HW
Photograph of a royal inspection of Bristol Fighters, courtesy of Imperial War Museums
Presented by Mick Oakey
Credits
| Role | Contributor |
| --- | --- |
| Presenter | Mick Oakey |
Featured in...
Pioneers

—

World War One At Home

The brains behind the breakthroughs

Places in Somerset that tell a story of World War One