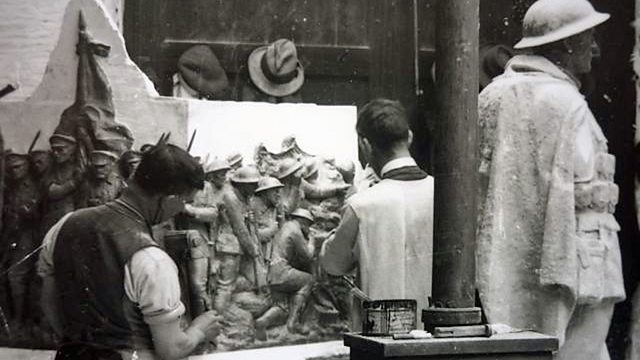 Frome, Somerset: Forging Munitions and Memorials
The annals of World War One are full of remarkable and well-known stories of survival. But away from the battlefields, in the Mendip town of Frome, there's an equally impressive tale of endurance. One that tells us about blue collar skill and flexibility.
Close to the town centre, on the banks of the River Frome, sits a lonely relic of the area's industrial past. A huge deactivated power hammer looks out of place surrounded by homes on a residential road and many passers-by would be mystified by its presence. The wheel and lever no longer function but it marks the site of the former foundry of J.W. Singer & Sons Ltd; a firm which employed thousands of local people during and after WW1.
John Webb Singer, a watchmaker, had cast his first brass candlestick in 1848,and the company went on to produce fine and much-praised iron work, church ornaments and statues. Their work was exported to Australia, New Zealand, India and South Africa and displayed at exhibitions in London and Paris in the 1860s and 1870s. The completion of a statue was often a cause for local celebration. People would line the streets to watch teams of horses pull the finished work through the town to Frome railway station. Then they would clap, cheer and throw their hats in the air as the train pulled away.
However with the onset of war, things took a dramatic turn. As with many workshops and factories throughout the country, the firm was requisitioned by the Government and converted to munitions manufacture. The nearby Market Hall (built in 1875 and today known as the Cheese and Grain) was taken over and used as a foundry for making shell cases and fuses. More than 700 people were involved in Singer's war work and for the first time in its 66 year history, women were employed.
The site would have been noisy, the work dirty and the hours long. This was now a large business doing vital work and the necessities of war meant jobs for local people and prosperity for the firm. But it could be a dangerous way to earn a living. Records show that in 1917, a worker called Eva Sheat lost all fingers of her right hand while cutting brass bars at a circular saw. The following year an employee called Miss Knight suffered a severed finger.
There is a certain irony in the fact that a war munitions manufacturer should benefit from the peace that followed but that's exactly what happened at Singer & Sons in the years immediately after 1918. Reverting to its pre-war role, there was now an enormous demand for war memorials and the Frome workforce were in demand for their experience and expertise.
They cast statues, figures, friezes, wreaths and tablets for memorials including the ones in honour of the Guards in St James's Park, the Machine Gun Corps at Hyde Park Corner and the Royal Navy in Chatham. Work from the foundry can also be seen at Edinburgh Castle and in Shanghai while closer to home, Bridgwater's impressive memorial in King's Square was produced by Singer & Sons in 1924.
In recent years Frome Museum has become a magnet for anyone with even a passing interest in the Singer story.
Opened in 1977, the museum is housed in a tall Italianate building squeezed elegantly between North Parade and Bridge Street. It's home to company artefacts, memorabilia, archives and an impressive photographic collection made up of prints and original glass plate negatives.
Amongst the permanent displays is an Aladdin's Cave of Singer items discovered, donated and salvaged over the years. There are tools, castings, correspondence, medals and wall plaques on permanent display but the centrepiece is surely the old factory sign made up of huge individual gold letters.
Sue Bucklow has been instrumental in making sure that as much of the firm's history is preserved as possible. There can be very few people who know more about the firm and its importance to the local community than this energetic and enthusiastic photo historian. In fact one of her first tasks at the turn of the millennium was to copy and catalogue the ageing glass negatives.
From the window of the museum library, Sue can see the site of the former foundry, as she sifts through boxfuls of fragile Singer prints and photographs: "As a citizen of Frome, I'm very moved to think that a factory in the town played such an important part in the nation's history."
Location: Frome Museum, 1 North Parade, Frome BA11 1AT
Image shows WW1 memorabiila being created, courtesy of Frome Museum
Presented by the Curator of the Singer collection, Sue Bucklow
Credits
| Role | Contributor |
| --- | --- |
| Presenter | Sue Bucklow |
Featured in...
Places in Somerset that tell a story of World War One

The production boom that fuelled the frontline