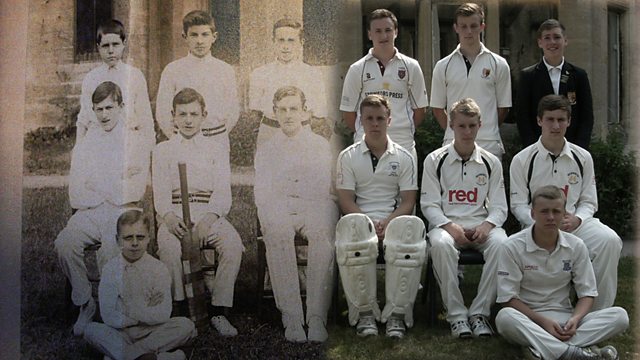 Marling School, Gloucestershire: Students and Teachers at the Front
At the outbreak of war all the assistant masters who were on the teaching staff had left the school to play their part in the war. By the spring of 1916 all the full time assistant teachers had also followed their lead leaving behind just two male members of staff. They were A.H. Bartlett, who had been on the staff since 1900 and at the outbreak of the war was approaching 40 years of age, and A.E.M. Bayliss who was unfit for military service.
The acute need of men for the armed forces was demonstrated by the requirement for Bartlett, at the age of 38, to appear before the Stroud Urban Tribunal in March 1916 to explain why he should be excused military service. His case was presented by the Rev Canon Henry Sewell the Chairman of the Governors, who pointed out that it was impossible to get assistant masters, let alone a headmaster. He was authorised to say that, unless they had a man as headmaster, there would be no option but to close the school. The case was deferred for six months. It was reviewed at half yearly intervals and in March 1917 Lieutenant John Wood, the army representative on the tribunal, said the other headmasters were being called up and it was his duty to press the tribunal to release Dobson for military service. In spite of this pressure the tribunal extended the exemption.
At the school, the boys were protected from knowing too much about what was happening behind the scenes. But there were many other ways in which the war was brought to their attention. Most of them, especially if they were over the age of 14, soon found themselves in the Cadet Corps and then wearing uniform to school two days a week. Several sixth formers regularly wore "Derby armlets", which signified that they had volunteered for the army and were awaiting call up.
A charge of three pence was introduced for matches held at the school in order to raise funds for the Stroud Y.M.C.A hut at Abbeville or for cigarettes for the troops. The result was a large increase in the numbers attending the matches.
To help with food supplies parts of the school grounds were turned into gardens cultivated by pupils. Standish House had been converted into a Red Cross Hospital and boys were encouraged to bring eggs, cigarettes and other things to school as gifts for the wounded soldiers. This was organised by one of the teachers, Miss Daisy Durn, who would visit the hospital with a group of boys and sometimes a whole form.
About 500 older boys were of military age and by the end of 1917 more than two hundred of them were on active service, almost 70 of them held commissioned rank. Among those who gained a military honour were:
Captain E. Paul Bennett, VC, MC
Captain F.W. Essex, MC
Sergeant F.L. Face, MM
Captain Gerald Hawkins, twice mentioned in dispatches
Driver C.C. Lambert, Croix de Guerre
Lieutenant J.Y.L Shum, MC
Lieutenant R.W. Sparks, MC
Lieutenant T.T. Taylor, MC
QMS F.A. Wood, Meritorious Service Medal and Serbian Samaritan Cross
A carved oak shield commemorating those who took part World War One was prepared and erected in 1920 at a cost of £20, of which £14 was contributed by the boys.
At the first Commemoration Day Service, held in the school hall on 28 November 1926, the Rev Robert Nott, the Minister of Ebley Chapel, said 37 older boys had been killed in the war but because many of those who had signed up had been boarders and came from different parts of England and Wales it was difficult to know exactly how many older boys had actually died. As a result it's unlikely that an accurate figure can ever be given. The two masters known to have been killed in action were Lieutenant Robert Nelson Jones and Lieutenant Herbert Wood.
Location: Marling School, Stroud GL5 4HE
Then and now combined image showing Marling School 2ND XI for the 1913 season (Harry Hogg is in the middle row, second in from right), courtesy of Marling School, with the current Marling School cricket team
Presented by Marling School Archivist Jane Bradley
Credits
| Role | Contributor |
| --- | --- |
| Presenter | Jane Bradley |
Featured in...
Places in Gloucestershire that tell a story of World War One

Memory

—

World War One At Home

Memorials and the commemoration of wartime lives