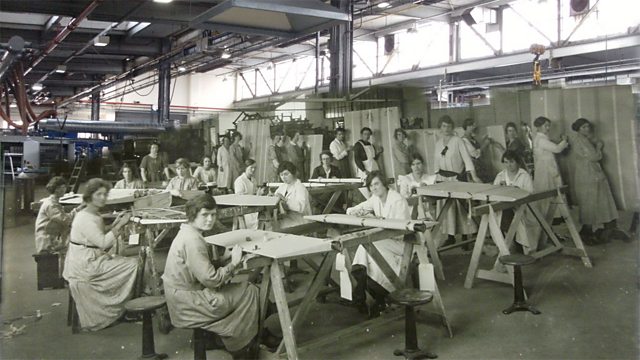 Sunningend Works, Gloucestershire: From Ocean Liners to Fighter Planes
The war was a difficult period for Martyn's as it was for the entire country but it proved to be a stimulating challenge to Alfred Willy Martyn, who was determined not to let the company collapse and with it the jobs of the 1,000 men it employed.
A.W. Martyn and his father Herbert Henry Martyn had often discussed the possibility of aircraft manufacture. So when Hugh Burroughes (who was later to become a director) asked A.W. to meet him at the RAC Club in London early in 1915, to discuss sub-contract work on airframes, the prospect of aircraft production was already in his mind.
Following the joint meeting a trial order from the Aircraft Manufacturing Company followed for Maurice Farman Longhorn and Shorthorn spares and components. They were produced speedily and efficiently and stood up to searching inspections, with the result that many other contracts followed, including fuselages and wings for Maurice Farman Longhorn and Shorthorn types, D.H.4s, D.H.5s, D.H.6s and D.H.9s, Bristol and Nighthawk fighters.
The ever-increasing quantities of airframes required for the war effort meant that additional space was required and Martyn's looked locally for more factory space. The Winter Gardens in Cheltenham was an early site, an unusual venue for building aircraft. Rather like a miniature Crystal Palace in Imperial Gardens, it housed teams of workers making and assembling D.H.6 and Bristol Fighter Fuselages.
Work was carried out in the Winter Gardens from about 1916 until the end of the war. On Armistice Day crowds packed the Promenade and workers marched through the town. A Bristol fighter was paraded triumphantly by the Martyns and the Gloucestershire Aircraft Company workers down Cheltenham Promenade, amid the cheering crowds.
A letter from T.D. Nicol, Ministry of Munitions of War, Aircraft Production, Kingsway, W.C.2:
"Gentlemen I am directed by the Minister of Munitions, Winston Churchill, to express his great appreciation of the assistance rendered by you and your employees in the supply of munitions during the war".
The Gloucestershire Aircraft Company employed large numbers of women engaged in the production of aircraft parts. Some of the work at that time was particularly suitable to the special skills in which most of the women were already experienced. The handling, cutting, stitching and fitting of the fabric, which was used to cover the wooden frames of the aircraft were all carried out by women. One female worker who had joined the workforce soon after war broke out, described the work she carried out on the aircraft:
"We had 12 inch long needles. A girl would stand on each side of the wing which was passed through next to a rib and passed by the other girl opposite, who ensured that the needle entered on the other edge of the rib. The first girl would then make a knot and repeat the process all along the rib, back and forward. When the fabric was stitched securely to the wood ribs and spars of wings, tails or fuselage it would go to the dope shop where it would be treated so that the fabric would stretch tight. When the dope dried it made a very strong combination"
Timeline
1914: Contract to produce ammunition boxes.
1915: Trial contract to produce spares and components for Maurice Farman Longhorn and Shorthorn aircraft. Passed searching inspections, so further contracts were placed.
8 January 1916: Awarded the Royal Warrant, "Architectural Decorators to His Majesty".
From 1916 additional factory space was acquired for assembling DH6s and Bristol fighters. Women now employed working on cutting, covering, sewing and doping (a farthing per hour extra pay) the finished wings and airframes. Also the observation balloons which had to have four rows of accurate stitching to be leak-proof.
June 1917: Gloucestershire Aircraft Co (later changed to Gloster Aircraft) founded by Alfred W. Martyn, Chairman and managing director until he retired.
1918: Now capable of turning out 45 aircraft per week (180 per month). Employees increased from 650 in January to 780 in June. Losses of 1,000 aircraft in two months in the German Spring Offensive made increased aircraft production vital to maintain the air superiority previously gained.
At war's end Winston Churchill sent a letter of thanks for the production of war munitions: 150 DH6 and DH9 fuselages, 461 complete Bristol F2b Fighters, and 165 FE2Bs and Nieuport and Nighthawk fighters had been manufactured.
Location: Factory site at Sunningend Works, Lansdown Industrial Estate, Gloucester Road, Cheltenham GL51 8PS
In the photograph; the seated women are covering Nighthawk tailplanes and elevators with unbleached Irish linen, while those standing are sewing rib tapes onto Nighthawk wings at HH Martyn. Evelyn Carey is at the forefront.
Photograph courtesy of the Jet Age Museum collection
Presented by Cheltenham MP, Martin Horwood
Credits
| Role | Contributor |
| --- | --- |
| Presenter | Martin Horwood |
Featured in...
Places in Gloucestershire that tell a story of World War One

The production boom that fuelled the frontline