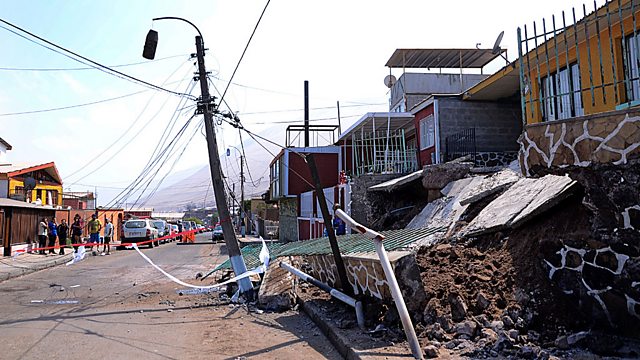 Chile Earthquake
Listen in pop-out player
In an 'Earth themed' programme, Jack Stewart looks at the underlying causes of the earthquake in Chile earlier this week and asks whether such events can be better predicted.
US Mudslide
Earthquakes can cause landslides, but we ask why one in the western United States a few weeks ago seems to have been caused by nothing more than heavy rain.
Environmental Satellite
The European Space Agency has launched the first in a series of satellites to collect environmental and climate data continuously – the first time this will be possible. We look at how final preparations are going.
IPCC Report
In the week when the IPCC launched a new report calling for greater effort on adapting to climate change we ask how this applies specifically to energy use and highlight the vast gap between adaptation strategies in developed and developing countries.
Freedom in Science
And as the BBC World Service concludes a major season of programmes examining the concept of freedom we look at the issue of freedom in science.
(Photo caption: View of destroyed houses in Iquique, northern Chile, on April 2, 2014 a day after a powerful 8.2-magnitude earthquake hit off Chile's Pacific coast © AFP/Getty Images)
Presenter: Jack Stewart
Producer: Ania Lichtarowicz
Last on