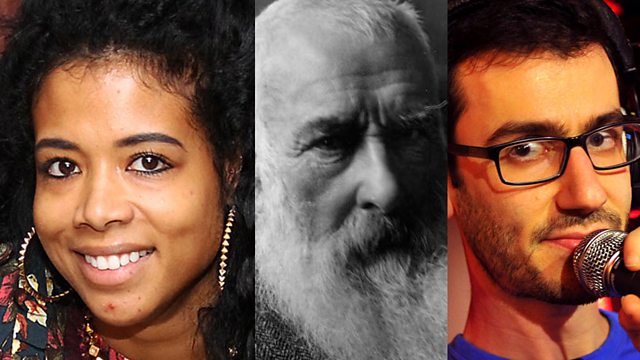 Kelis
American singer songwriter Kelis, famous for the overt sexuality of her youthful performances, explains how cooking has inspired her new album. Can pop and feminism ever go together? Radio 1's Gemma Cairney investigates. We hear some astounding poetry from a new generation of female poets from Africa and its diaspora. Felicity Finch, star of the British radio soap opera The Archers, travels to Rwanda and meets the actress who puts her terrifying childhood experiences in the genocide to positive use in the hugely popular Rwandan radio soap Urunana. Three years on from the 2011 Egyptian uprising, what's happening to the arts? Eva Dadrian reports from Cairo. As this year's happy Oscar winners decide where to display their golden statuettes, we hear about the daredevil performers who will never get nominated because Hollywood would rather keep them secret. And there's a performance of Ravel's Bolero as you've never heard it before. We discover how the impressionist painter Monet had cataracts to thank for some of his most vibrant water lilliesJoin Nikki Bedi for all this and more in The Arts Hour.
Photo shows: Kelis (c) BBC, Claude Monet (c) Henry Guttman/Getty, Shlomo (c) BBC
Last on
Sun 16 Mar 2014
22:06

GMT
Kelis
US music star Kelis talks about her life-long love of food and music, and how she's bringing both together in her forthcoming album Food. She talks about the changes she's made to her life - becoming a cordon bleu chef, divorcing her rapper husband Nas when pregnant, and the joys of motherhood. She shares her thoughts on feminism and her bold and sexy image in her big Neptunes-produced nineties r'n'b hits Caught Out There and Milkshake. And she explains how after growing up with jazz and home-cooked food in Harlem, she's now fusing the two influences in her latest album, Food, with tracks like Jerk Ribs, Friday Fish Fry, and Biscuits N' Gravy, and made with TV On The Radio's Dave Sitek.
You can see and hear Kelis online - playing and talking at the inaugural BBC 6 Music Festival - by visiting the 6 Music website.
Food is out on Ninja Tunes in April
Kelis's Jerk ribs recipe
Jerk rib rub:
2 pounds pork back ribs
3/4 cup brown sugar
1 cup kosher salt
1tbspn cayenne pepper
2 tbspn garlic powder
1tspn whole caraway seeds
Jerk sauce:
1/2 tspn sesame oil
1tbspn soy sauce
2 fresh thyme sprigs
2 garlic cloves, chopped
1 bunch scallions
2 tbspns molasses
1 scotch bonnet
Method:
Put the rub on the ribs. Cover them, let them cook at 400F for 2 and a half hours. Add jerk sauce. Bake a little more until cooked through. 
Urunana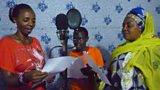 Kayitesi Mediatrice (left) and her fellow actors recording an episode of Urunana which is broadcast twice a week on the BBC Great Lake Service and Radio Rwanda
Photo credit: Felicity Finch