Music and featured items
22 items
Add music you love and enjoy it with
Kelis

US music star Kelis talks about her life-long love of food and music, and how she's bringing both together in her forthcoming album Food. She talks about the changes she's made to her life - becoming a cordon bleu chef, divorcing her rapper husband Nas when pregnant, and the joys of motherhood. She shares her thoughts on feminism and her bold and sexy image in her big Neptunes-produced nineties r'n'b hits Caught Out There and Milkshake. And she explains how after growing up with jazz and home-cooked food in Harlem, she's now fusing the two influences in her latest album, Food, with tracks like Jerk Ribs, Friday Fish Fry, and Biscuits N' Gravy, and made with TV On The Radio's Dave Sitek.

You can see and hear Kelis online - playing and talking at the inaugural BBC 6 Music Festival - by visiting the 6 Music website.

Food is out on Ninja Tunes in April

Kelis's Jerk ribs recipe

Jerk rib rub:

2 pounds pork back ribs

3/4 cup brown sugar

1 cup kosher salt

1tbspn cayenne pepper

2 tbspn garlic powder

1tspn whole caraway seeds

 

Jerk sauce:

1/2 tspn sesame oil

1tbspn soy sauce

2 fresh thyme sprigs

2 garlic cloves, chopped

1 bunch scallions

2 tbspns molasses

1 scotch bonnet

Method:

Put the rub on the ribs. Cover them, let them cook at 400F for 2 and a half hours. Add jerk sauce. Bake a little more until cooked through. 
Presenter Nikki Bedi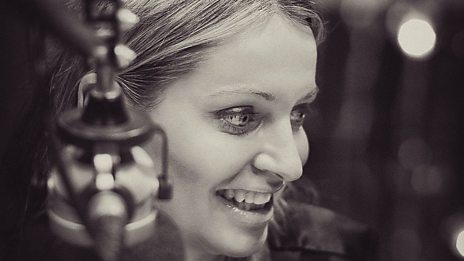 Nikki curates, writes and presents The Arts Hour. Find out about her other work.
Podcast
From Alice Walker to Chinua Achebe, the world's greatest authors discuss their best known novel.…