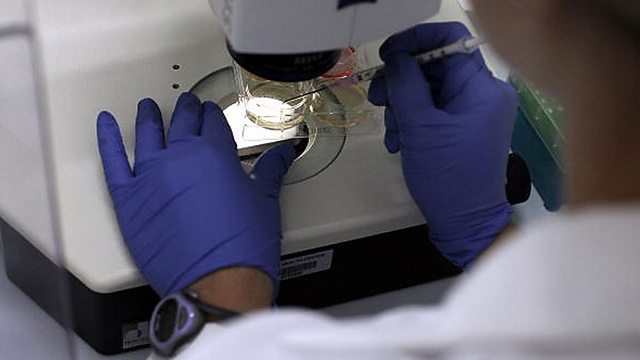 Stem cells questioned; Black box; Ultrathin sensors
Stem cells questioned
Earlier this year, a new study from Japan announced a curiously easy way to make stem cells, by placing them in an acid bath. It seemed too good to be true, and according to recent critics, is. One of the authors has declared that the paper should be withdrawn, that he has 'lost faith in it'. Ivan Oransky runs the site RetractionWatch, dedicated to scrutinizing irregular research. He talks us through the many criticisms, from anomalies in the data, to other scientists' inability to reproduce the results.
Black box recorders
Are black boxes outdated technology? With GPS widely available in everyday gadgets like mobile phones, how could Malaysian Airlines Flight MH370 just disappear? Adam Rutherford speaks to Dr Matt Greaves, a Lecturer in Accident Investigation about how we track aircraft.
Ultrathin Sensors
Researchers in Australia have been developing ultrathin nanowires that are flexible and will enable the future development of electronic devices which you can press and stretch – to be transferred and possibly wrapped around your skin. They make for skin-like pressure sensors that are sensitive enough to measure your pulse. One of the researchers, Wenlong Cheng, from Monash University discusses how they work and their potential applications.
Hack my hearing
Aged 32, science writer Frank Swain is losing his hearing. Audiologists are concerned there may be a rising tide of 'hidden hearing loss' among young people. More of us use headphones for long periods of time resulting in an increase in noise-related hearing damage. Frank asks what the future holds for people like him, part of a tech-savvy generation who want to hack their hearing aids to tune in to invisible data in the world around them.
Elephants Recognise Human Voices
Elephants in eastern Africa regularly come into conflict with livestock-herding Masai people. A PNAS study suggests the animals are trying to adapt to this threat. Researchers played different human voice recordings to elephants and observed their reactions. They responded more fearfully to the voice of a Masai man, than to those of a Kamba man who pursue an agricultural lifestyle. The reactions triggered by voices of women and boys were also less defensive. Lead researcher Professor Karen McComb concludes that the animals can differentiate human ethnicities, gender and age.
A blood test for Alzheimer's disease?
A blood test can accurately predict the onset of Alzheimer's disease, according to US researchers. They showed that testing levels of 10 fats in the blood could predict - with 90% accuracy - the risk of the disease coming on in the next three years. James Gallagher discusses the findings, with input from Dr Simon Ridley, head of research at Alzheimer's Research UK.
Mobile phone autopsies
As many as two thirds of deaths that occur in the world go unrecorded. In Malawi, there is no official record of deaths that occur outside a medical facility, making it difficult to plan and budget for health services. But a new system of using mobile phones to conduct what are known as "verbal autopsies" is going to create the country's first database of deaths and causes. The BBC's Anne Soy reports from the district of Mchinji in central Malawi.
(Photo caption: Working on stem cells © Getty Images)
Last on
Sun 16 Mar 2014
14:06

GMT