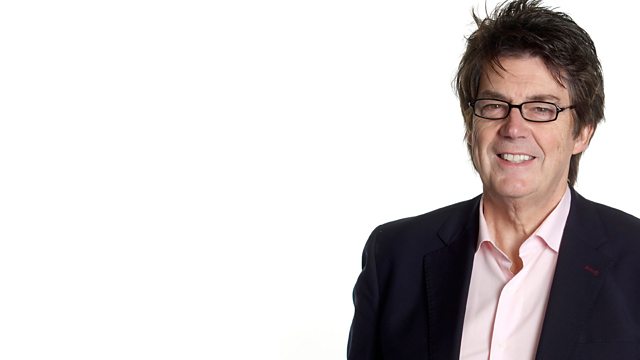 Food on Friday
Paul Clerehugh tells you how to cook morning mango kiss of life, chorizo, chickpea and chicken casserole and Toffee pineapple cake. All the recipes are available for you below.
Last on
Morning Mango kiss of life
Ingredients  
2 medium mangoes, peeled & flesh cut into 1cm cubes (about 400g flesh in total)
3-4 tbsp caster sugar
8 cardamom pods, broken open & seeds lightly crushed
Good grating of fresh nutmeg
350g Greek yoghurt
2 tbsp chopped pistachios
Method
Reserve a couple of handfuls of the mango cubes. Put the remaining mango in a food processor with the caster sugar, crushed cardamom seeds & nutmeg, blitz to a smooth purée.
Add the Greek yoghurt & blitz together until well mixed. Divide the mango yoghurt between 4 glasses, then top with a few cubes of mango & a sprinkling of chopped pistachios.
Chorizo, Chickpea and Chicken casserole
Ingredients  
2 tbsp olive oil
600g chicken thigh fillets
200g cooking chorizo, chopped
1 onion, sliced
3 garlic cloves, peeled & left whole
2 celery stalks, chopped
1 red chilli, deseeded & chopped
100ml dry sherry or white wine
400g can chickpeas, drained & rinsed
400g can chopped tomatoes
250-300ml chicken stock
2 courgettes, chopped
Handful flat leaf parsley, roughly chopped
Method
Heat the oil in a large casserole over a medium-high heat. Season the chicken & brown for 3-4 minutes on each side.
Add the chorizo, onion, garlic, celery & chilli to the pan & cook for another 10 minutes, stirring occasionally.
Add the wine or sherry & bring to the boil, add the chickpeas & tomatoes. Simmer & reduce for 5 minutes, then add the stock & courgettes. Simmer gently for 25 minutes.
Scatter over the parsley before serving.
Toffee, Pineapple upside down cake
Ingredients 
50g desiccated coconut
200g plain flour
½ tsp salt
2 tsp baking powder
115g unsalted butter, softened
150g golden caster sugar
3 eggs
1 tsp vanilla extract
90ml single cream
For the Caramelised Pineapple  
1 pineapple, peeled, halved, cored & cut into 2cm slices (about 600g chopped weight)
200g light brown, muscovado sugar
75g unsalted butter, cubed & chilled
Method  
Preheat the oven to 180°C.
Put the pineapple & muscovado sugar in a frying pan over a low medium heat. Melt the sugar, then simmer for 5-6 minutes, turning the pineapple to coat. Take out the pineapple with a slotted spoon & put in a sieve set over a jug. Simmer the syrup in the pan for 5 minutes, then whisk in 75g butter & simmer for 2 minutes more until it's a deep amber caramel. Tip into a 20cm x 20cm square (or 23cm round) fixed-based cake tin, cool.
Toast the coconut in a dry frying pan for 3-4 minutes until just golden; cool. Mix in a bowl with the flour, salt & baking powder. In another bowl, use electric beaters to cream the butter & caster sugar until fluffy 3-4 minutes. Beat in the eggs, one at a time, then the vanilla, cream & any juices from the pineapple.
Fold in the dry ingredients.
Arrange the pineapple in the cake tin, cover with the cake mix. Bake for 45 minutes until golden. Run a knife around the cake when it comes out of the oven, then cool for 15 minutes. Invert the cake onto a plate & serve warm with cream if liked.