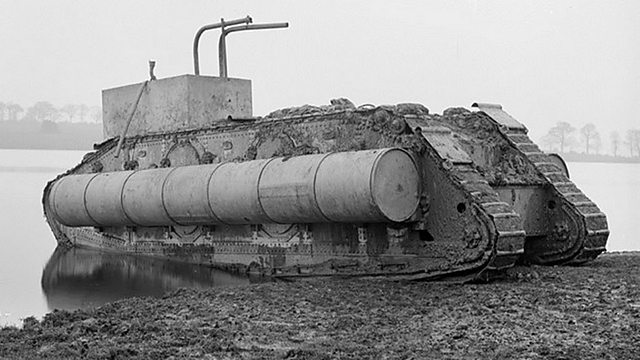 Dollis Hill, London: Test Base for Tanks
In 1916, the Mechanical Warfare Supply Department opened secret experimental grounds for tanks at Dollis Hill in north west London. With the aim of breaking the stalemate of trench warfare, the armoured vehicles made their first appearance, on the Somme, in September that same year. Occupying an area around what is now known as Tankridge Road, a group of soldiers, mechanics and engineers were assembled to test new developments in tank technology. Many experiments were carried out in the area including the use of amphibious vehicles at the nearby Welsh Harp Reservoir. These vehicles would have used as part of an advance on Berlin, as part of a scheme known as Plan 1919, but by the Battle of Amiens in 1918 general improvements in tank design and mobility helped give the allied forces a significant advantage over Germany.
Location: Dollis House, Tankridge Road, London NW2
Image of flotation experiments with a Mark IX Tank at the Welsh Harp, Dollis Hill
Photograph courtesy of Imperial War Museums
.
Featured in...
Tanks

—

World War One At Home

How the tank clanked its way into wartime notoriety

Technology

—

World War One At Home

Wartime pioneers and innovation

Places in London that tell a story of World War One