Karachi's Kidnap-busting King
Pakistani businessman Jameel Yusuf has become an expert in busting kidnapping gangs in Karachi and says he has cracked hundreds of high profile cases. Jameel explains how he involves his wife and daughter in his work.
Greg Whyte has competed at two Olympic Games as a modern pentathlete and now advises other Olympic athletes on their fitness. He has also been involved in training celebrities who have taken on extreme physical challenges to raise money for charity. He tells Matthew how to prepare for a marathon.
Steven Kutcher is known as the 'Bug Man of Hollywood'. He can get a cockroach to flip onto its back and make a spider crawl on cue. Steven tells us how he's trained insects for more than a hundred films and TV adverts.
Radio presenter Christine Ntahe hosts a weekly show in her homeland Burundi where her guests are street children - and once she's finished interviewing them, she invites them to her home for Sunday lunch!
Israeli author David Grossman talks about his new novel Falling Out of Time, written after the death of his son Uri in 2006.
(Photo: Kidnap-buster Jameel Yusuf)
Last on
Wed 26 Feb 2014
03:06

GMT
Christine Ntahe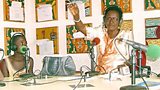 The Burundian radio presenter is known by many as "Mama Sunday". That's because, every weekend, she opens her doors to street children and shares lunch with them.  She tells Outlook how she spent most of her life working to give Burundi's most vulnerable children a voice.