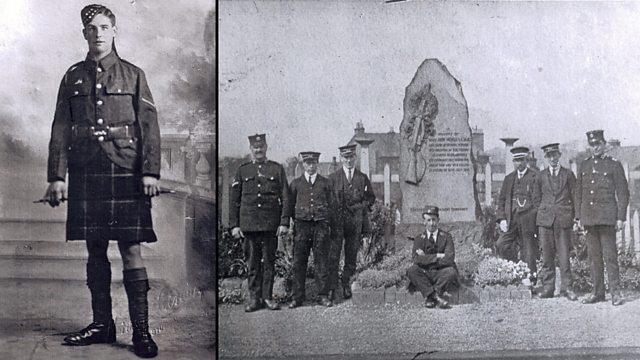 Glasgow, Scotland: Victoria Cross winner John Meikle and his memorial
John Meikle (Nitshill Rail Station in Glasgow) G53 7NX
John Meikle was a sergeant in the Seaforth Highlanders when he was killed in action in July 1918 in North East France. His bravery in storming a German machine gun position single-handed, armed with just a revolver and a walking stick, earned him a posthumous Victoria Cross.
Before the war, John Meikle, had worked as a ticket clerk at the railway station in the Nitshill area of Glasgow. Up until the early 1970's there was a memorial to him at the station but that was removed due to vandalism.
Now, with the centenary of the outbreak of the First World War, Nitshill residents are considering how they might best memorialise John Meikle at the place where he worked.
Image: Sgt John Meikle (left), and his fellow rail workers with his original memorial (right). Courtesy of Dingwall Museum.
Featured in...
Places in Scotland that tell a story of World War One

Memory

—

World War One At Home

Memorials and the commemoration of wartime lives