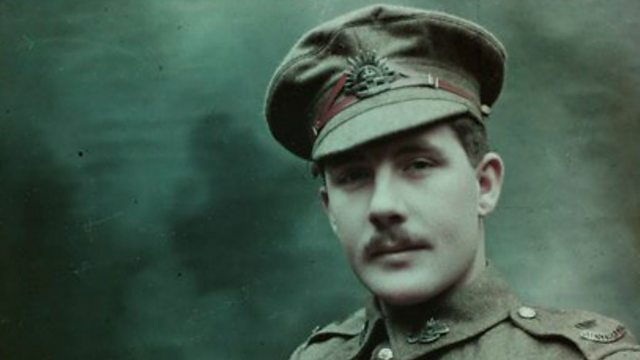 Royal Albert Memorial Museum, Devon: The Secret Soldier
The secret soldier is an Australian. He's been in Exeter for nearly 100 years, but no one knows his name. Who was he? Why is he in Exeter's museum? What might he tell us about the city's connection to the servicemen from down under?
In 1919, Exeter was presented with two guns and a plaque. It thanked the people of the city for their kindness to Australian troops. The guns have disappeared, but the sentiment remains in an Exeter nurse's autograph book (Royal Albert Memorial Museum collections). It records the presence of Australian servicemen like Private Gibson of the cyclist battalion who illustrated his poems of home with Aussie maps and flowers, of Sapper Scully the writer of 'The Digger - the lad in khaki brown' and the signaller artist who sketched his boat home.
Although the Mayoress of Exeter's Depot supported Australian troops passing through the city, some were destined to stay.
Exeter's Higher Cemetery in Heavitree has six Australian war graves. They include a serviceman who enlisted under an alias, a recipient of the Military Medal and Devonian who sailed with the Australian Navy.
Was the secret soldier in the photograph one of these men, or was he one of the hundreds of other Australian servicemen who received the kindness and hospitality of Exeter's citizens? Nearly 100 years on, his mystery remains unsolved.
Location: Royal Albert Memorial Museum, Exeter, Devon EX4 3RX
Image shows the 'secret soldier'
Photograph courtesy of Royal Albert Memorial Museum
Presented by Jo Loosemoore
Featured in...
Places in Devon that tell a story of World War One

Memory

—

World War One At Home

Memorials and the commemoration of wartime lives