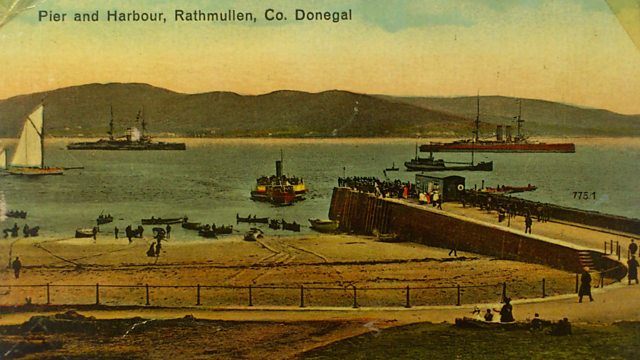 Lough Swilly, Co Donegal: Grand Fleet Takes Shelter
Lough Swilly is a quiet deep-water fjord in County Donegal. In October 1914 it became home to the British Grand Fleet.
The fleet's commander, Admiral Viscount Jellicoe, feared a German submarine attack on its base at Scapa Flow in the Orkney Islands. He ordered his vessels to move to Lough Swilly "whilst the submarine obstructions at Scapa were being perfected".
People living along the lough shore witnessed the arrival of some 40 destroyers, cruisers and repair ships. Fresh water was piped from the hills and supplies were bought in from local towns and villages. Admiral Jellicoe divided his time between Buncrana on the eastern shore and Rathmullen across the water.
In Rathmullan, four kite balloons were deployed from the Royal Naval Air Service station - now a football pitch in the village. The balloons, which carried a serviceman suspended below, were used to spot enemy submarines.
Admiral Jellicoe himself stayed in the Pier Hotel. It was also the family home of James Deeney, who still has the hotel register dating back to 1914.
A little further north, from their base at Fort Dunree on the lough's eastern shore, hundreds of soldiers kept watch at the mouth of the Swilly. The artillery guns there and at Leenan Fort reached into the North Atlantic.
Today, the Inishowen Friends of Messines commemorate all those who went off to World War One and didn't return. A memorial wall at Fort Dunree, on the banks of Lough Swilly, is dedicated to those from the area who died in the conflict.
Location: Lough Swilly, County Donegal, Latitude 55.094947 Longitude -7.533213
Image of postcard showing vessels from the British Grand Fleet during their stay in Lough Swilly in autumn 1914
Photograph courtesy of James Deeney
Featured in...
Places in the UK and Ireland that tell a story of World War One