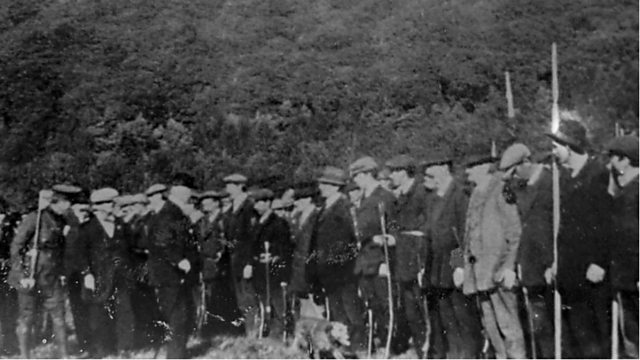 Woodenbridge, Co Wicklow: Redmond Urges Irishmen To Fight
Woodenbridge in Co Wicklow was the picturesque setting for an incendiary speech given by the Irish Parliamentary Party leader, John Redmond, on 20 September 1914.
The repercussions of his words echoed around Ireland and led to divisions amongst those who would and wouldn't enlist to fight against Germany.
In 1914 Ireland was not divided by a border as it is today. The entire island was part of the United Kingdom of Great Britain and Ireland and was ruled by Westminster. However, the country was rife with disagreement over the imminent introduction of 'Home Rule' - the establishment of a devolved Irish parliament in Dublin.
Two opposing militias existed. The Irish National Volunteers in the south of Ireland were adamantly in support of Home Rule, while the Ulster Volunteers in the north were passionately against it. Both were armed and ready to fight for their cause.
John Redmond was a supporter of Home Rule. He sought only limited self-government for Ireland, believing his country should not be wholly separated from the British Empire.
In response to the looming war with Germany Redmond had already pledged the support of Irishmen in the defence of Ireland.
On 20 September 1914 he went one step further. In a speech to Irish National Volunteers at Woodenbridge he urged: "Go on drilling and make yourself efficient for the work. And then account for yourselves as men, not only in Ireland itself, but wherever the firing line extends, in defence of right, of freedom and religion in this war."
This was too much for some of the volunteers.
Following fevered debate across Ireland, a minority of around six per cent of Irish National Volunteers disagreed with Redmond's call and formed a breakaway group called 'The Irish Volunteers'. The majority force, 'The National Volunteers', remained loyal to Redmond and to Irish participation in the war.
Dermot Meleady published the second part of his two volume biography of John Redmond in 2013.
Location: Woodenbridge, Co Wicklow, Ireland, Latitude 52.833003 Longitude - 6.232671
Image of John Redmond inspecting volunteers, believed to be at Woodenbridge on 20 Sept 1914
Photograph courtesy of Paddy Byrne, Woodenbridge Golf Club
Featured in...
Places in the UK and Ireland that tell a story of World War One

Refugees, internment, training and protest.