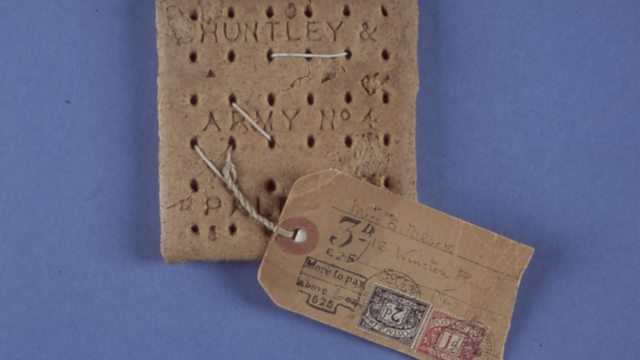 Reading, Berkshire: Emergency Ration Biscuits
Huntley & Palmers started as a small biscuit bakery on Reading's London Street in 1822. By the start of World War One, it was the largest biscuit manufacturer in the world, operating from a factory on the Kings Road.
During the war, biscuits were to become an essential part of the army ration and Huntley & Palmers was tasked with supplying British troops. The No. 4 and No. 9 Army biscuits provided necessary nutrition and recipes were adapted according to the availability of ingredients.
The Huntley & Palmers families were Quakers and employed more than 5,000 people at the site, women increasingly among them, as men were called up to fight. In 1915, the company agreed to make artillery shell cases for the war effort, which were described by the War Office as being jewel like in quality.
Location: Huntley & Palmers, Kings Road, Reading RG1 3EE
Image shows a Huntley & Palmer biscuit from World War One, courtesy of Reading Museum (Reading Borough Council)
Presented by BBC producer, Janice Hunter
Featured in...
Rationing, supplying the frontline, drinking ...

Places in Berkshire that tell a story of World War One

The production boom that fuelled the frontline