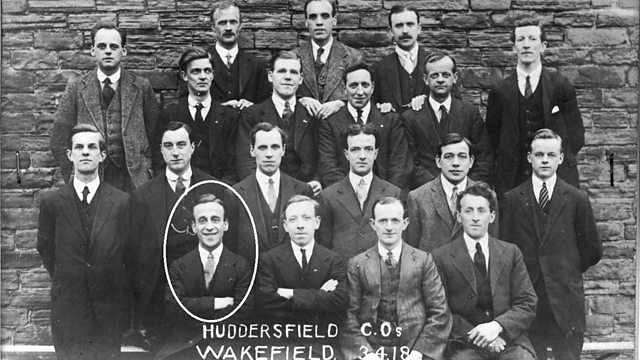 Wakefield, Yorkshire: Arthur Gardiner, a Conscientious Objector
Arthur Gardiner, a 26-year-old from Huddersfield was a member of the British Socialist Party. For him the war was a fight for empires and foreign markets and had nothing to do with working people. Along with the other men of Huddersfield BSP, he refused to fight. He was court-martialled and imprisoned in Wormwood Scrubs.
By August 1916, the authorities were concerned at the number of conscientious objectors (COs) taking up army time in court martial and introduced an alternative to imprisonment known as the Home Office Scheme. This offered work for COs which was useful but not war-related. COs were to be based in empty prisons – Warwick, Wakefield, Dartmoor and Knutsford or at work camps across the country. Arthur Gardiner came to Wakefield in the autumn of 1916, and served there for the rest of the war.
COs were not popular. There were anti-CO riots near all the work centres and attacks on COs in Wakefield on two weekends in May 1918.
After the war Arthur Gardiner became a full-time Labour Party agent for Huddersfield, Huddersfield Town Councillor and Alderman Mayor in 1942 and, Freeman of the Borough in 1960.
Location: Wakefield Prison, Love Lane, Wakefield, Yorkshire WF2 9AG
Image shows Huddersfield COs in Wakefield Prison, April 1918, with Arthur Gardiner highlighted
Photograph courtesy of Cyril Pearce, Huddersfield
Presented by BBC Reporter, Tim Daley
Featured in...
The individuals who made a stand against conscription

Protest

—

World War One At Home

Race riots, rent strikes and conscientious objectors' resistance

Places around Leeds that tell a story of World War One