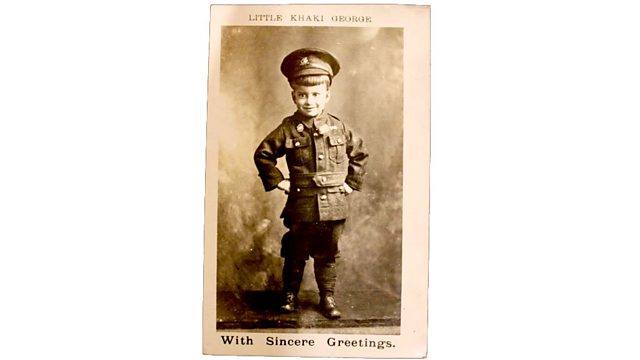 Wards End, Halifax: Khaki George, Child Fundraiser
George Bentley was born in April 1911, and was the son of Walter and Ellen who owned the Commercial Temperance Hotel, in Wards End, Halifax. The Hotel will today be recognised as Wards End Chambers.
At the age of three; George, dressed in a miniature Khaki uniform, was accompanied out onto the streets of Halifax to collect money for war funds. The first mention of him in the Halifax Courier was on 22 August 1914 – he had collected £1 3s. By then he was being noticed and was becoming something of a celebrity. His father gave him the name "Little Khaki George".
In April 1915, the Courier reported that George had beaten the record (£84) set by a child collector from the Boer War and had raised £85 11s 6d. George ended up raising more than £100 during World War One.
John Spencer from the Bankfield Museum, Halifax, believes the uniform is quite authentic with some very minor alterations so it was better suited to a small child.
Location: Wards End Chambers, Halifax, Yorkshire HX1 1BX
Image shows postcard of Little Khaki George courtesy of The Bankfield Museum
Presented by BBC Reporter, Jane Chesworth
Featured in...
Children

—

World War One At Home

Experiences of children across the UK

Places around Leeds that tell a story of World War One

The production boom that fuelled the frontline