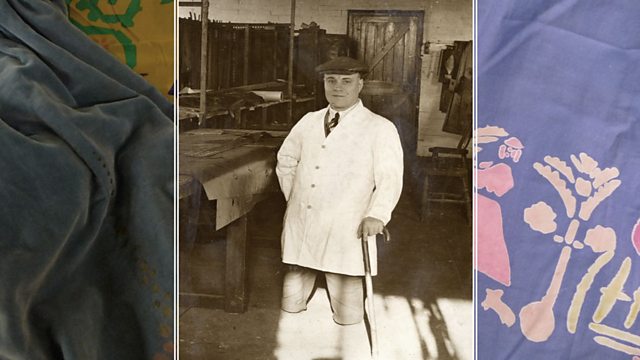 Middlewood, Sheffield: Jarvis Cocker Salutes Wartime Innovation
Thousands of soldiers lost their limbs during WW1. In 1915, Annie Bindon Carter, a designer living in Sheffield volunteered at Wharncliffe War Hospital at Middlewood. There she met injured servicemen like Arthur Fisher returning from the trenches with terrible injuries.
While teaching them art, she developed the idea of fixing paint brushes to the amputees' stumps. This allowed the men to stencil fabrics as part of their rehabilitation. After the war she set up a company, Painted Fabrics based at Norton in Sheffield which employed injured ex-servicemen to create beautiful handcrafted clothing and fabrics that were sold to grand homes and well-known London shops like Liberty.
At Painted Fabrics, men acquired new skills very different from their pre-war occupations including hand stencilling using specially adapted brushes and tools, screen printing, block printing, spray painting and garment manufacture.
Mrs Carter's motto for Painted Fabrics was 'Work not Charity'.
Location: MIddlewood, Sheffield, Yorkshire S6 1TP
Image shows Arthur Fisher
Image courtesy of Sheffield Archive & Local Studies Library
Presented by Jarvis Cocker
Featured in...
Places around Sheffield that tell a story of World War One

Everyday life in the towns, villages and countryside