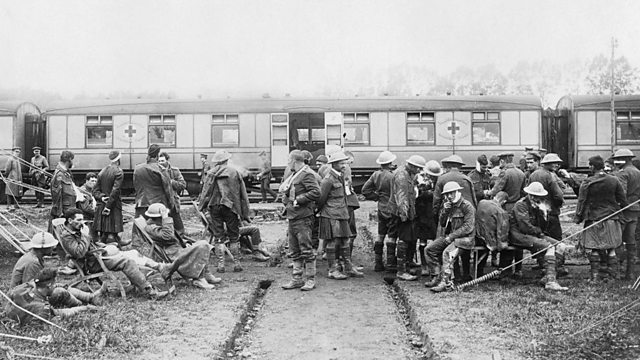 Windsor Great Park, Berkshire: Nursing Soldiers from the Frontline
The Princess Christian Military Hospital in Windsor Great Park treated more than 3,000 patients from 1915 to 1919, mainly wounded soldiers from the front.
It was a temporary hospital built on the Crown Estate, made up of a number of wooden huts placed in a semi circle facing south.
The hospital was partly staffed by nurses from the Voluntary Aid Detachment, set up by the British Red Cross Society. They were mainly from the upper and middle classes and most had never worked before.
Florence May Caswell joined as a civilian nurse in 1914. She was eventually awarded the Royal Red Cross, a military honour in recognition of her services to nursing at the Princess Christian Hospital in Windsor Great Park.
Her recollections of her time at the hospital were recorded by Imperial War Museums in 1974.
Location: Princess Christian Military Hospital, Windsor Great Park, Berkshire
Image shows casualties, including Canadians, waiting to be loaded onto the Princess Christian Hospital train
Image courtesy of Imperial War Museums
Presented by BBC Reporter, Janice Hunter
Featured in...
Places in Berkshire that tell a story of World War One

Medicine

—

World War One At Home

Hospitals, medical pioneers and the nursing contribution