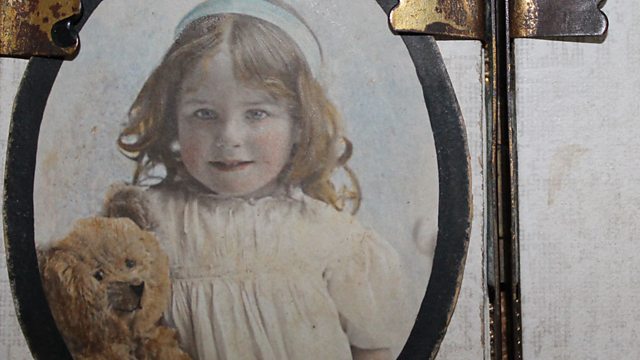 Whiterock, Cornwall: The Chocolate Soldier, Narrated by Jenny Agutter
Little Joan Burbidge might not have foreseen that writing her name on a box of chocolates posted to British soldiers in France would lead to a series of letters from a complete stranger. The 'Chocolate Soldier', as he became known, was Bombadier Edward Hassall. Jenny Agutter narrates a moving story.
Interviewed for the BBC in 1978, Joan recalled a little of how the story started. "I think I can remember running back and saying to my father that the soldier won't know who sent him the chocolate and Daddy standing up in the room and taking the flaps out of the chocolate packet and writing this message from Little Joan, Whiterock, Wadebridge. I grew up with it because they were so interested that they took to him very much, and told their friends about it and I can remember my mother reading the letters when the aunts came to stay they all wanted to hear it and instead of passing it round she just read it."
Joan's father wrote many letters back to Edward Hassall. Joan recalls how life carried on; she would go to school and occasionally hear about another letter arriving from Edward in France.
A family friend of the Burbidge's, Jane Adams who still lives in Cornwall thinks that Edward Hassall would have appreciated the letters. She points out that Edward was of course primarily writing to Joan's father,: "He found the ideal correspondent in 'Uncle Bill' who was a lovely man and had the imagination and the sympathetic personality; between them they built something rather special. But it was unconscious. I think that's the charm of it. They were two people who were instinctively on a wavelength and the correspondence was able to flourish."
The Burbidge family never met Edward Hassall. He survived the war and returned to England but sadly died in 1923 of a 'long and painful illness'. A letter from his sister Emma Hassall after his death says 'he was never the same after the war. Before the war he was always so fun and full of the joy of life. He saw humour in everything and was a favourite wherever he went although he was essentially a man's man being rather shy in ladies society. After the war he was much more serious and grave, which was not to be wondered at considering what he had been through. All through he carried with him a photo of Joan, which he regarded as his mascot.'
Since our story has been broadcast new information has come to light. A descendant of his younger brother William has been in touch. Judith Parry says the man we know as the 'Chocolate Soldier', Bombardier Edward Hassall, was actually christened Edwin though he was known as Ted. Judith has some of his demobilisation papers, which clearly show his name as Edwin Hassall. Also, until very recently, descendants of the Burbidge and Hassall families had never met. Their families were introduced to each other for the very first time at the Imperial War Museum during the filming of a BBC documentary.
Location: Whiterock, Cornwall PL27 7DU
Image shows a portrait of Joan Burbridge
Photograph courtesy of Jane Adams
Presented by Jenny Agutter
Featured in...
Children

—

World War One At Home

Experiences of children across the UK

Places in Cornwall that tell a story of World War One

Everyday life in the towns, villages and countryside