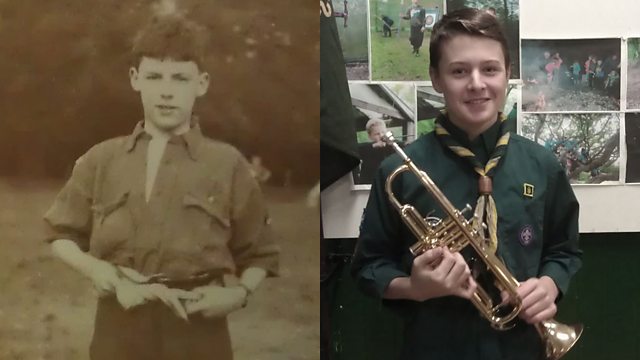 St Albans, Herts: Scouts on Standby
Their motto is "be prepared". One thousand scouts in Hertfordshire were the first to show just how prepared they were for World War One.
Two days into war, scouts in St Albans were the first in Britain to organise themselves into a 24-hour rota. Making bandages, moving donated furniture and looking after officers' horses were some of the many duties they performed.
As the war progressed, scouts were called on to guard coastal areas and work on the land so more men could be freed up for military service. Quoted in the Times History of the War, Prime Minister David Lloyd George, said: "When the boyhood of a nation can give such practical proofs of its honour, straightness and loyalty, there is not much danger of that nation going under."
Location: St Albans, Hertfordshire AL1 1SE
Image shows George Foxlee (left) from the 4th St Albans scout group, who gave the "all clear" on his bugle after Zeppelin raids, and Tom (right) who is a current scout in the group
Photographs courtesy of Hertfordshire Scouts and Julie Raynes, St Albans
Featured in...
Children

—

World War One At Home

Experiences of children across the UK

Places in Beds, Herts & Bucks that tell a story of World War One

Everyday life in the towns, villages and countryside