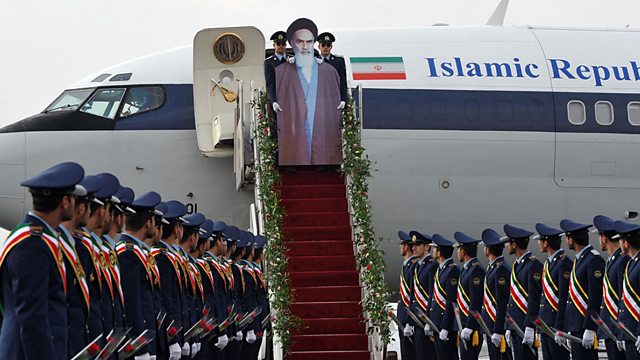 Why Iran Salutes a Cardboard Khomeini
Listen in pop-out player
Iran is marking 35 years since the Islamic Revolution and Ayatollah Khomeini's return from exile in France by marching cardboard cut-outs of the supreme leader down the red carpeted steps of inflatable planes. BBC Persian's Hossein Sharif tells us why.
Also on the programme:
Reporting Gay Rights
Gay rights has been in the headlines in Russia, Nigeria and also in Brazil, which has just broadcast its first prime-time gay kiss in a popular soap opera. The act provoked a big response across the country and on BBC Brasil's Facebook page. Homosexuality is never an easy issue to report for the language services BBC Africa's Josephine Hazeley, BBC Russian's Nikolay Voronin and BBC Brasil's Fernanda Niedecker discuss the challenges.
Arabic Fiction Prize
The long list for the International Prize for Arabic Fiction has just been released with authors from Egypt, Syria and Iraq competing for the award. Soumer Daghastani and Anwar Hamed from BBC Arabic discuss issues of conflict and social upheaval in the novels and whether audiences might just prefer some escape from these themes?
Love Your Stan
Kazakhstan's president has floated the idea of changing his country's name to lose the 'stan'. Why? Because he's unhappy that his country is often confused with other states in the region but many Kazakhs also like to point out that they are much better off than their troubled stan neighbours - referring not just to Afghanistan or Pakistan but also Kyrgyzstan and Uzbekistan. So is it a good idea? We're joined by Aamer Ahmed Khan of Pakistan and Rustam Qobil of Uzbekistan.
Castaway Tales
The unbelievable story of the man said to be lost at sea for more than a year may turn out to be just that - unbelievable - but what his tale has done is inspire journalists from across the Fifth Floor to remember their favourite tales of those who were shipwrecked and lost at sea.
Online Greatest Hits
Fifi Haroon gives the low down on the top-hitting stories across the Language Service websites, including Sochi's shabby accommodation for journalists and couples getting stuck in embarrassing situations.
Image: Getty images
Last on