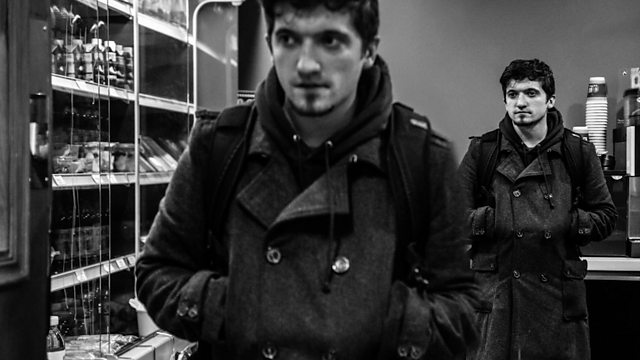 Breaking the Cycle by Philip Coleman
A man describes his struggle with anxiety attacks in this distinctive personal film.
Music: "Clean Soul" Kevin MacLeod (incompetech.com)
Licensed under Creative Commons: By Attribution 3.0
http://creativecommons.org/licenses/by/3.0/
This film is Rated by the BBC Fresh team. Rated films are those the team or guest reviewers enjoyed, and feel are worth highlighting because of their production techniques. Reviews may contain spoilers.
David Quinn, BBC Fresh researcher, says:
I liked this film because it's perhaps the most visually distinctive submission we had to the first round of Fresh. With its use of stylised monochrome still images, rather than video footage, it pushes at the boundaries of what a documentary can be.
In terms of the story, what stands out is how personal it is. Phil is both subject and filmmaker, which injects a huge amount of intimacy and depth into the film. This is a sensitive topic that isn't widely discussed and it's brave for him to discuss his condition so publicly. I also suspect it would be a big comfort for others dealing with the same issues.
The opening, with the heartbeat sounds, is very strong and takes us immediately into exactly what the film is about. The power of the first-person voiceover, coupled with those static images, immediately draws in the audience. The intense stylistic approach seems to fit with the theme of an individual's deep internal struggle and the techniques he uses to escape it.
One issue that arises at times is the use of reconstructions and heavily stylised shots, such as when an apparent doctor or psychiatrist character holds up a sign saying "You are not ill". Are these set-ups justified, or is the audience being misled in some way? Clearly, these shots are not documentary in the sense of recording something that actually happened. But the experiences described in the voiceover are real and the filmmaker has applied his own artistic technique to bring these thoughts to life. The context means it's unlikely an audience member would feel deceived by watching this.
One of the unique things about Fresh is that it allows filmmakers to be bold and experimental, and this certainly fits into that category.
Featured in...
Films 2013

—

Life Through My Lens

Short documentary films made in 2013 for the BBC Fresh Online project.