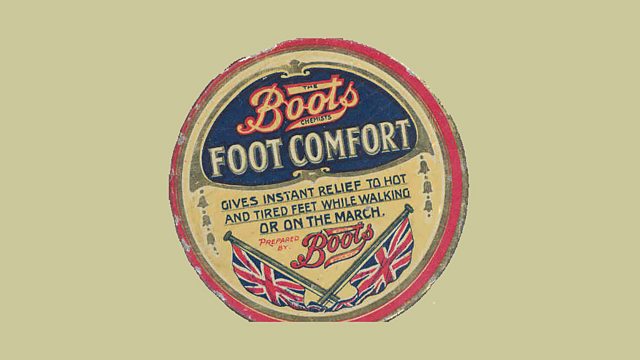 Boots, Nottingham: The Government's Pharmacy
Nottingham based Boots company expanded during the war.
They were the main government supplier for vermin powder, anti-gas cream, water steriliser, anti-fly cream (flies were a big problem on the front). Also, iodine tubes, matchless tinder lighters, peppermint, compressed medicines, quinine.
Boots also developed the British version of aspirin and saccharine after supplies from Germany were cut off.
Before World War One, Germany was the world leader in pharmaceuticals. Jesse Boot realised that supplies would be reduced and recruited scientists to develop a British alternative. This research and development paved the way for further pharmaceutical innovations at Boots like insulin and by the 1960s, ibuprofen.
Location: Island Site (formerly Boots), Nottingham NG2 4UU
Image shows 'foot comfort' produced by Boots, courtesy of Imperial War Museums
Featured in...
Places around Nottingham that tell a story of World War One

Medicine

—

World War One At Home

Hospitals, medical pioneers and the nursing contribution