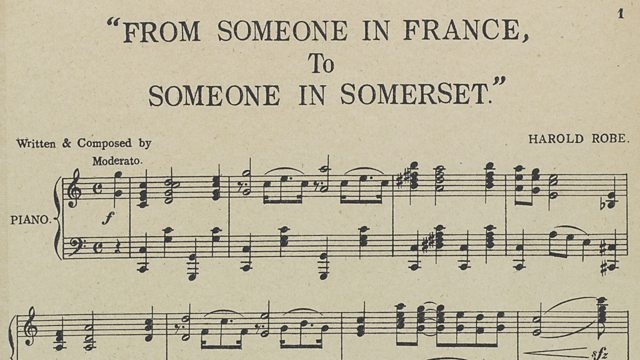 Frome Memorial Theatre, Somerset: A Long Lost Love Song
When a country goes to war, two battles are fought simultaneously; one to win the conflict and another to keep morale up at home and abroad. Music and entertainment have always been a major weapon in keeping the services and the civilians in the right mood to face the hardships of war.
By today's standards morale-boosting entertainment during World War One was low-tech but music hall, variety and what the American's called vaudeville did the job nonetheless.
'From Someone in France, to Someone in Somerset' was written in 1917 by the American lyricist Harold Robe and featured in the show 'The Better 'Ole' at London's Oxford Music Hall between 1917 and 1918. However it never had the widespread appeal of numbers like 'Pack Up Your Troubles...' or 'It's a Long Way to Tipperary'. So after its brief flirt with the footlights, it seems the song disappeared from public consciousness. But after discovering the sheet music in the archives of Imperial War Museums, it's now been performed in the county of its title. It's likely that this is the first time the song has been staged since 1918 and may well be the first time the lyrics have ever been recorded.
The venue was Frome Memorial Theatre; a public amenity built to honour the men of the area who served and died in World War One. The foyer is dominated by a 1914-18 war memorial and the theatre forecourt is used for the town's annual Remembrance Sunday service. Three local artistes took to the stage there to interpret this forgotten work; Amanda Boyd and Tom Carpenter (vocalists) with Giles Adams (piano).
The Somerset in this song is an idealised, romanticised place. No towns or villages are mentioned, so it's a good guess that the 'Tommy' who begins this duet is fantasising about a locality and a landscape of his dreams. It's a simple ballad about love and longing; as much for the west country as for the sweetheart left at home there.
Humphrey Barnes has been involved with the Memorial Theatre all his adult life and hearing this long-lost tribute to his home county proved poignant: "It's wonderful and totally fitting to have a Great War song about Somerset being performed here."
Location: Frome Memorial Theatre, Christchurch Street West, Frome BA11 1EB
Image shows the original sheet music held in Imperial War Museums archives
Courtesy of Imperial War Museums
Featured in...
The impact on arts, literature, poetry and journalism

Places in Somerset that tell a story of World War One