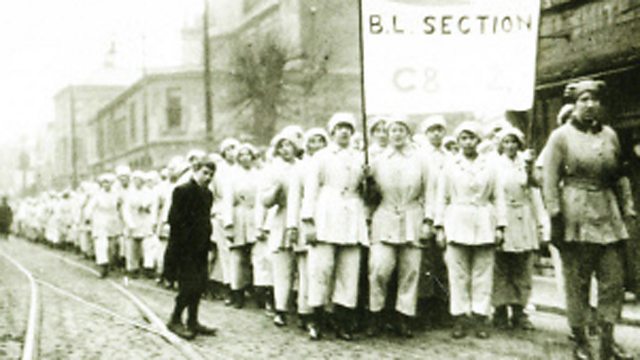 Quedgeley, Gloucestershire: Canary Girls
A major contributor to the national effort during World War One was the Gloucester National Shell Filling Factory at Quedgeley.
It was a crucial link in a chain of 16 gun ammunition filling factories, five trench warfare filling factories and three chemical shell filling factories set up throughout Britain from the summer of 1915. More than 17 million shells and cartridges were filled at the factory until work ended in November 1918.
Before the war, the army's gun ammunition requirements and about half of the navy's needs were supplied by the shell filling factories of the Royal Laboratory at Woolwich. Following Britain's entry into the war both the Royal Laboratory and the trade firms expanded operations but the huge increase in demand for shells led to a serious shortage. The 'Munitions Scandal', as it became known, led to the formation of the Ministry of Munitions to organise and control industry on a war footing. It resulted in plans for a national shell filling factory near Gloucester.
By September 1915 a site for the Gloucester factory had been found and was being surveyed. The location was at Manor Farm, north of Naas Lane and due west of the Midland Railway and Great Western Railway main lines. There were almost 300 acres of good quality pasture land and within a few weeks 257 were taken with building work beginning on 20 October 1915.
It was one of four factories designed for the production of 40,000 rounds of quick firing ammunition and 250 tons of breech-loading cartridges weekly. Almost the entire construction was of wood with the power house, gunpowder magazines and a breach loading cartridge box store being built of concrete.
Shell and cartridge filling work at Quedgeley, as at other filling factories, was deemed unskilled and apart from the necessity to employ only the steadiest and most careful people, it meant that workers could be drawn from a wide field of experience. Comparatively high wages were considered necessary to attract sufficient labour, and women workers registered at the Labour exchanges for munition work at Quedgeley.
Many of those employed at the factory had seen previous employment as domestic servants (the largest source of women workers), dress-makers, dairy maids, factory and shop workers. The first 70 women taken on were trained at Woolwich and the remainder on the shop floor, performing all the shell, cartridge and fuse work.
Work started in early March 1916 and by June; 2,420 workers (2,113 women and 307 men) were on the factory's books and working. Numbers steadily increased to 3,916 in September before falling to 3,212 in December when a fear of TNT poisoning was at its height. An appeal in the local newspapers for women munitions workers in 1917 brought a recovery in numbers and continual expansion which peaked at 6,364 in March. The fluctuations in the numbers of employees can be put down to the unpleasant nature of some of the work and as a result of variations in the gun ammunition programme.
Employees used in the danger area were issued with special flannel overalls coloured to indicate their work area in khaki, grey, blue, brown and black. White indicated a TNT worker. The overalls were originally intended to be fireproofed but on account of cost this was never carried out. The women's suit consisted of a cap, coat, and trousers without turn ups or pockets.
Given that thousands of tons of explosives were manipulated by thousands of workers, its remarkable that nothing more than minor accidents occurred.
Old factory site, Naas Lane, Quedgeley, Gloucester GL20
Image shows 'canary girls'
Photograph courtesy of Imperial War Museums
Presented by Kim Baker
Featured in...
Places in Gloucestershire that tell a story of World War One

The production boom that fuelled the frontline

Women

—

World War One At Home

How war transformed the status and role of women