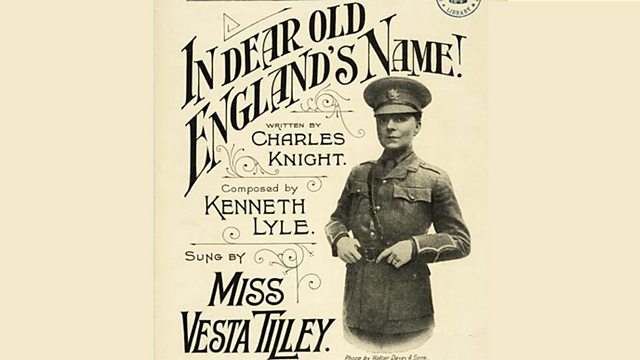 Palace Theatre, Manchester: Vesta Tilley, the Music Hall Recruiter
Before conscription was introduced in 1916, Britain relied on a volunteer army.
Manchester mill worker, Kitty Eckersley was 19-years-old when she married her sweetheart, Percy Morter in December 1913. They lived in a small house in Clayton and soon Kitty fell pregnant.
The following autumn, they went to a show at the Palace Theatre where the renowned female drag artiste Vesta Tilley was recruiting for the army. Percy enlisted.
In an interview from 1964, Kitty recalled how the singer placed her hand on Percy's shoulder and encouraged him to take the King's shilling.
Percy Morter, who was a painter, went on to serve with the 9th Battalion of the Loyal North Lancashire Regiment. After training at Preston and Bournemouth he left for France in September 1915.
He died on the Somme nearly a year later.
His body was never found and he is remembered on the Thiepval Memorial and the Clayton War Memorial in East Manchester.
Kitty collapsed with shock on receiving the news in July 1916, her son was born in October of that year and was named Percy after his father.
Kitty told the BBC she couldn't remember the baby being born because her world had come to an end. She later remarried but spoke movingly of her first love in the interview.
Location: Manchester M1 6FT
Image shows a recruitment poster showing Vesta Tilley
Photograph courtesy of Imperial War Museums
Featured in...
The impact on arts, literature, poetry and journalism

Places around Manchester that tell a story of World War One