The People's Operator
Listen in pop-out player
Wikipedia's Jimmy Wales has taken on a new role at a company that aims to be an ethical mobile phone network provider. He has just become the co-chair of The People's Operator – a company that has been in existence for over a year and is in need of a lot more customers. Wales believes they will sign up to an organisation that has at its core the intention of ploughing some of its profits into charity. Jimmy Wales talks to Click about the challenges of The People's Operator.
Drones to Protect Rhinos
With the underground market in the illicit trade of rhino and elephant tusks booming, the number of poachers has also swelled. Conservationists in Kenya have turned to technology to help combat the poachers. The Ol Pejeta Conservancy has collaborated with a company called Airware to develop a drone that will be able to scan the terrain and deter criminals. Click hears from Richard Vigne, the chief executive at the conservancy.
Bespoke Electronic Tailoring
A growing number of people are shopping for their clothes online. But an absence of virtual fitting rooms means that often many off-the-peg items do not fit the customers when they eventually get to try them on. It has been said that almost a quarter of all garments that are bought online are returned. The majority are returned because they do not fit. A number of companies have taken note and with new technologies are designing virtual fitting rooms and bespoke tailoring for their online customers. Rich Preston reports on this growing trend.
(Photo caption: People show their smartphones ©AFP/Getty Images)
Last on
Wed 22 Jan 2014
09:32

GMT
The control center on the Ol Pejeta Conservancy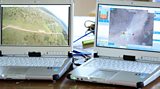 Used with the kind permission of Ol Pejeta Conservancy