Tunis Professor: Why I Need A Bodyguard
Habib Kazdaghli is head of the Arts Faculty at Manouba University in Tunis. Since the 2011 uprisings he's been trying to keep his university secular - but he's faced strong opposition from a well-organised minority of ultra-conservative Muslims. Marco Silva reports.
Steven Isserlis is an internationally-renowned cellist who has just recorded a piece of music written by his grandfather, Julius - a virtuoso pianist and Russian Jew whose musical talents saved his family from persecution.
British psychiatrist Lynne Jones reports from the Philippines in the aftermath of Typhoon Haiyan. Lynne has recorded some of her experiences treating those with mental illnesses.
Jamie McDonald is a sucker for physical punishment. In 2012 he cycled 14,000 miles from Bangkok to his home in England. Now he's in the process of running 5,000 miles from one side of Canada to another - the equivalent of 200 back-to-back marathons - in sub-zero temperatures.
Last on
Fri 10 Jan 2014
03:06

GMT
Steven Isserlis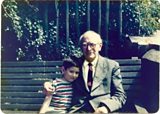 Steven Isserlis comes from a talented musical family. He's pictured here with his grandfather, Julius, a virtuoso pianist and Russian Jew whose music saved the family from persecution in 1920s Russia.