Marni Nixon: the Secret Voice of Hollywood
Now 83 years old, Marni Nixon looks back at her early singing career in the 1950s and 1960s. Hollywood's ghost singer, whose voice you hear in the main roles of The King and I (singing for Deborah Kerr), My Fair Lady (singing for Audrey Hepburn) and West Side Story (singing for Natalie Wood), tells Outlook's Jo Fidgen about the days when she had to defend her rights.
Also on the programme: the late British composer Sir John Tavener on composing Christmas carols, his own spirituality, and how that influenced his work; the mother of One Direction singer Zayn Malik, on having a teenage idol for a son; and the internationally-renowned Chinese pianist Lang Lang tells Outlook about being a child prodigy and the price he had to pay for his success.
Picture: Marni Nixon, Credit: Gabriel Bouys/AFP/Getty images
Last on
Christmas Day 2013
03:06

GMT
Lang Lang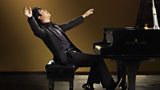 Lang Lang, China's superstar piano player, on his life as a child prodigy, and the price he had to pay for his success.